A campaign platform to educate, excite and create a sense of wonder for the millions inspired by Sir David Attenborough's Wild Isles BBC documentary series, created in collaboration with the WWF, RSPB and National Trust.
"This starts and ends with us."
Sir David Attenborough
A most urgent call to action
The WWF, National Trust and RSPC created a public information campaign to tie in with Sir David Attenborough's BBC natural history series Wild Isles. They asked Catch to create a website to drive local change by showing individuals how to make impact. With the show expected to attract up to ten million viewers, the opportunity to drive public action was not an opportunity to be missed. 
Visuals with purpose
Cinematic visuals and colourful close-ups are hallmarks of Sir David Attenborough's natural history documentaries. The website's palette echoed the muted slates of the natural world, giving space for the programme's stunning video and photography to do the storytelling.  
On television, the visuals do more than entertain; they move viewers to take action. Catch designed every element of the site to enable visitors to do this, from task-led navigation to prominent call-to-action buttons.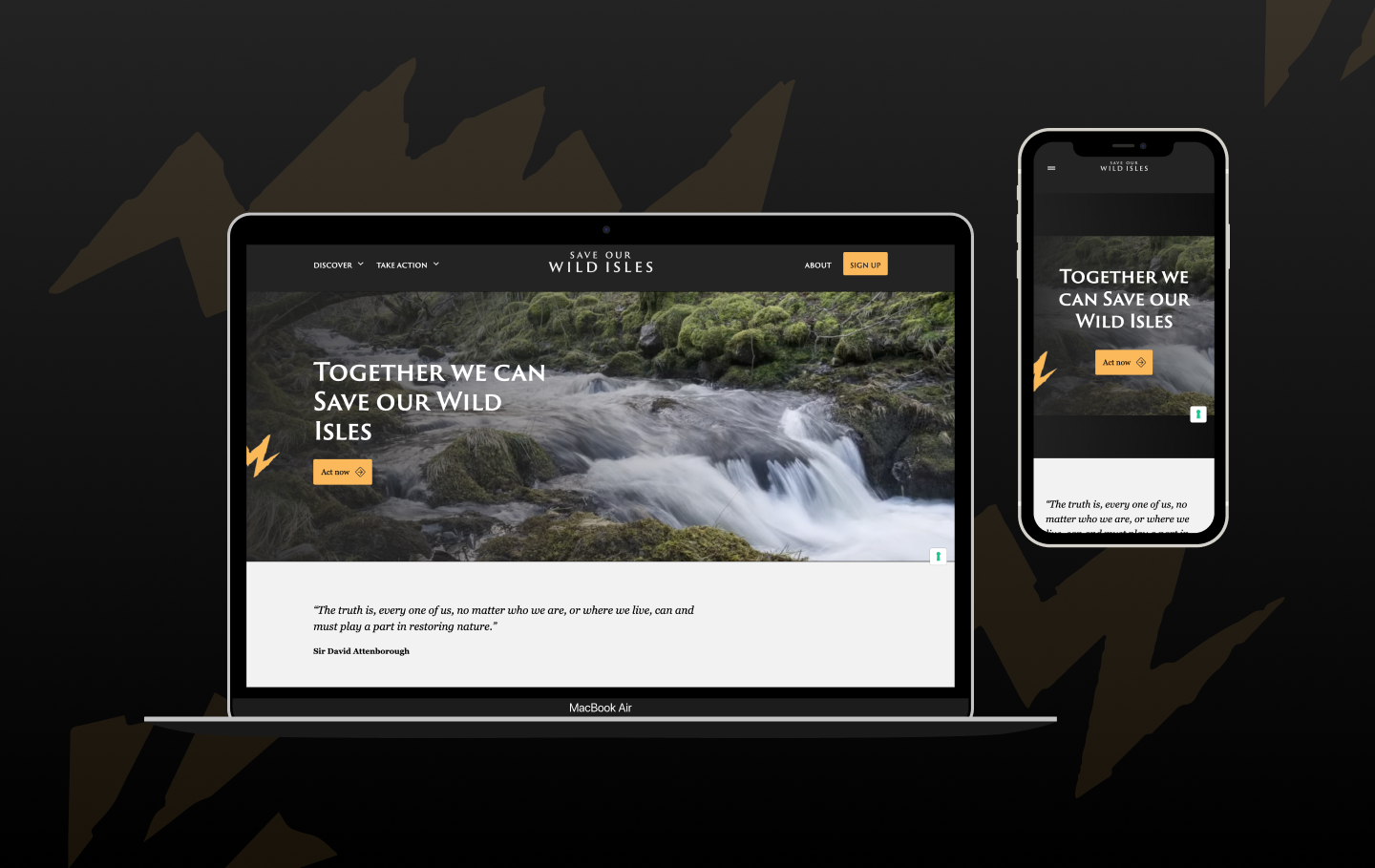 Reaching a wide audience
The three charities shared a diverse audience base. These include existing supporters, people involved with other UK nature campaigns, and the politically influential. They also wanted to target young people and families, including mobile natives engaging with them for the first time. 
How to serve such diverse audiences? Our discovery sessions found that no matter which group they belonged to, audiences could identify with a practical context, such as school, home, work or the community. This became the basis of the site's information architecture. 
Experience the family website journey 
A camera pans over a majestic treetop canopy, overlaid with the message 'Together We Can Save our Wild Isles'. Scroll down and a video from Sir David Attenborough implores action. But how? Clear navigation invites families to take action at home. It guides you to practical tools from each charity: how to measure environmental impact, seek nature on your doorstep, or take small steps towards change. For more information, there is a simple sign-up form. 
 
"The Catch team were able to produce for us a visually beautiful website, capable of hosting the stunning imagery and video assets to pay tribute to the BBC's Wild Isles TV show."
Joe Trigg, Head of Digital Product & Delivery, WWF-UK
4
Months to Design, Build and Launch
Behind the scenes
Catch's technology-agnostic approach enabled us to select the right software for this project's unique traffic needs. Meanwhile, our signature communication framework enabled three stakeholder groups to work effectively to meet a tight deadline. 
Multiple stakeholders and a pressing deadline 
Our hard deadline was the broadcast date of the first Wild Isles programme. This gave us four months to take the website from conception to delivery. Catch ensured clear communication lines and a timetable with the WWF, RSPB and National Trust. This enabled all sides to pull together against a tight deadline. 
Fluctuating traffic volumes
It's expected that the Save Our Wild Isles site will have super high visitor numbers during the five weeks the programme airs. These will likely fall when it moves to BBC iPlayer We determined that the Prismic content management system hosted on AWS would offer the best flexibility while offering a cost-effective method of delivery.
"Catch built the necessary infrastructure to enable supporters to take action in their own lives, through initiatives such as the People's Plan for Nature, the Aviva Community Fund, and our Business engagement films."
Joe Trigg, Head of Digital Product & Delivery, WWF-UK
A project close to our values
In 2021, Catch completed its B-Impact assessment, the first step on our way to becoming an accredited B Corp, to meet the highest standards of verified social and environmental performance, governance and accountability. It was a privilege to work on a project so close to our values.