Skip to main content
19 Oct 2016
DADIs - Best Use of VR nomination
We're thrilled to announce that our Fantasy Flight VR experience for Thomas Cook Airlines has been nominated for Best Use of VR in the 2016 DADI awards. We are up against some stiff competition with campaigns for Google, Virgin and Reebok, so let's get our game faces on and see what happens on awards night, Oct 19th!
Thomas Cook Airlines' engaged Catch as their social agency of record, and in March 2016 we launched a new activation for them, "Fantasy Flight". It brings to life 360-degree exploration that lets you try before you fly.

Best experienced on mobile devices via the YouTube app, viewers change their perspective of Thomas Cook Airlines' refurbished premium and economy class cabins in real-time by moving their device around. The video features real pilots and cabin crew going about their normal duties while the cabin comes to life with characters connected to three new routes launching 2016.
If the user explores thoroughly they can find clues to three of the airline's newest destinations which could win them a £3,000 Los Angeles holiday.
"We've used recently-developed 360-degree video technology to open the doors of our great new cabins on our Airbus A330 fleet."
Tom Morely, Senior Marketing Manager Thomas Cook Airlines
Founding Partner of Catch, Jonathan Smith, said: "2016 is set to be Virtual Reality's breakout year. This new technology is perfectly placed to highlight Thomas Cook Airlines' new routes and high-end A330 aircraft. We used three GoPro cameras assembled to capture an entire spherical perspective of the cabin scene, creating an innovative experience. We had a lot of fun with a 50+ strong crew of actors, airline staff and impersonators to bring the new destinations into the cabin, as well as providing clues which viewers can find to enter a competition to win a holiday to LA."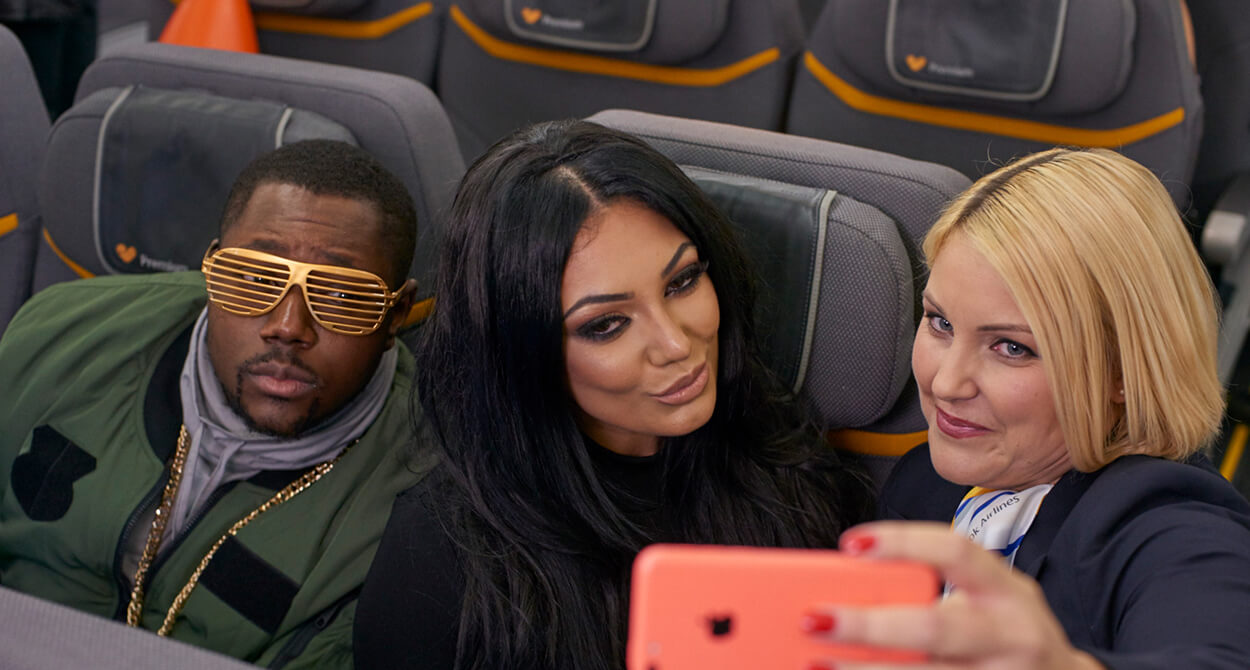 Senior Marketing Manager for Thomas Cook Airlines, Tom Morey, said: "We've used recently-developed 360-degree video technology to open the doors of our great new cabins on our Airbus A330 fleet."
"By summer this year, we'll be operating seven of these long haul aircraft on direct flights from Manchester to Miami, New York, Boston, Los Angeles, Orlando and Las Vegas. Customers don't have to wait and see how it looks, they can find out right now by interacting with these amazing videos."
Join the fun on social at #TCAFantasyFlight www.facebook.com/ThomascookairlinesUK or dive straight into the 360-degree experience at www.thomascookairlines.com/fantasyflight
18 Oct 2016
We are #Hiring
We're looking for top digital talent to fill these new positions in London. If you are up for a challenge and would like to work with with some great brands at a top digital agency, then why not apply on our careers page.
Social & Content Strategist - you'll be an ideas person, expert-level in dissecting a client brief and playing an integral part in planning and executing best social strategy to exceed KPIs
Producer/Project Manager - a great role for those with a proven track record of delivering great digital products and forging a great relationship with your clients while you're at it
Drupal Developer - joining our experienced team of full-time Drupal Developers, you'll be in a great position to learn and grow from our award winning Development Team
Client Services Internship - you will have the opportunity to gain experience working on some of the most exciting projects in town
Check out the careers page to find out more and apply.