Cyprus International University
Cyprus International University: A Vibrant Site to Boost Student Recruitment
Visit CIU
Adding energy to academia 
Since 1997, Cyprus International University (CIU) has grown from 80 to 20,000 students. It was time for its website to reflect a modern establishment "open for open minds". 
"Having an innovative, creative, professional, reliable and problem-solving team on our side helped us bring our vision to reality."
Çiğdem Damla Çiçek, Web and Social Media Coordinator at CIU
The challenge
CIU's website did not reflect its educational excellence, state-of-the-art infrastructure and advanced research facilities. 
A high bounce rate showed prospective students struggled to find the correct information and were uninspired by the site's traditional look and feel. 
Behind the scenes, the website lacked an efficient content management system, making it difficult to track content. It was hosted on campus and managed by a small team. 
The objective
To create a fresh digital destination to engage prospective students. It had to be robust, easy to update and outperform on mobile. It also had to integrate with the university's course management and recruitment systems. 
Key research findings
The site was used by Cypriot, Turkish and international students

Each group had different university entry requirements. Clear signposting and joining instructions were vital. 

It needed a font that could support both English and Turkish alphabets. 

Three-quarters of visitors viewed the site on their mobile phone
 
A fresh visual style 
CIU opted for a new design concept that replaced the staid maroon with an energetic purple to reflect a new wave of Gen Alpha students. The graphical elements, typography and user interface contributed to the vibrancy.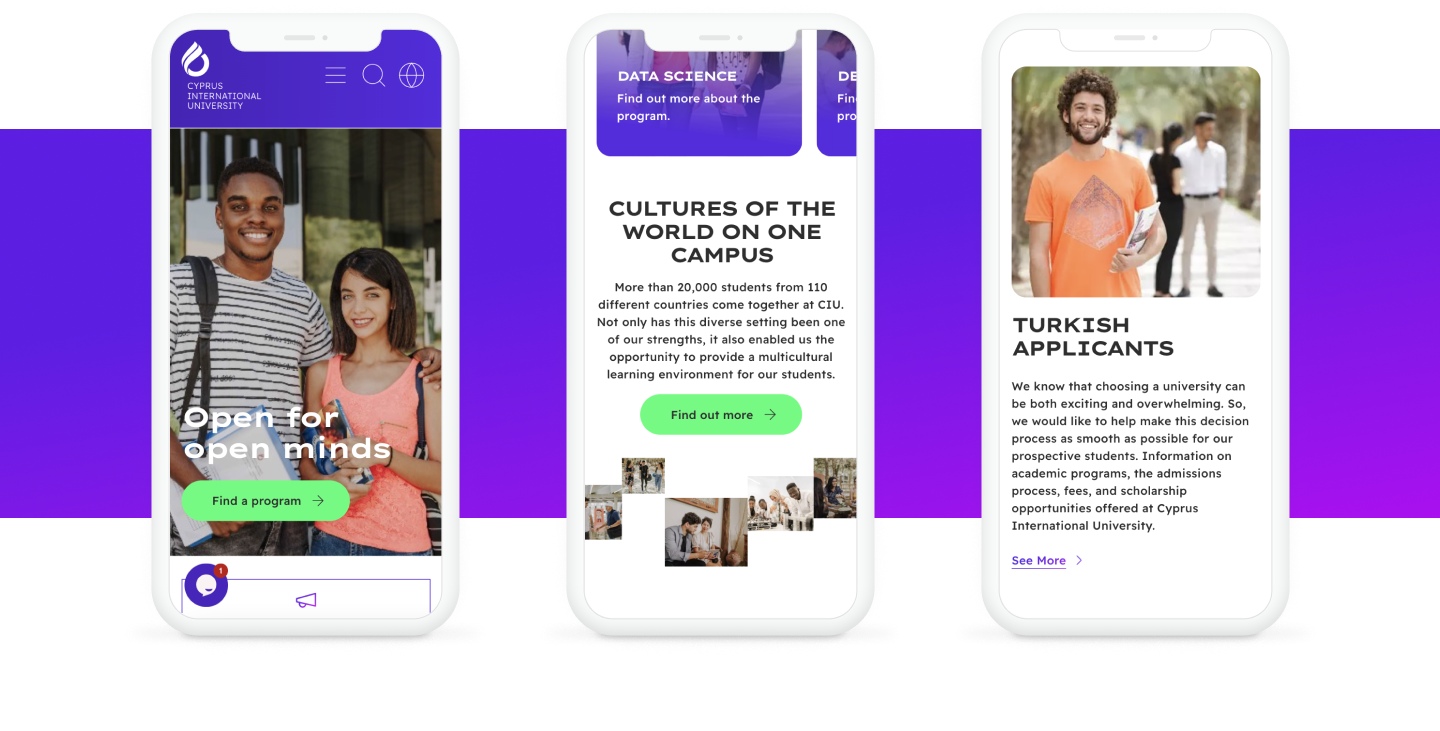 Flipping the focus
We shifted the website's focus from the university to prospective students. This involved designing information architecture to guide their search for a course. We included task-orientated buttons using active language - for example, 'Become a student' replaced 'Course information'.
A new user experience 
A horse leaps through the air, a swimmer cuts through water, and a robotic arm whirrs into action – visitors to CIU's new home page immediately know they have found an institution that encourages dynamic thinking. Clear prompts show them where to go next - do they want to find a programme or learn about student life? Search bars help them find the perfect course, and live chat helps out with the details. 
A new web management experience
Moving the website to the Drupal 9 CMS transformed CIU's content management capabilities. Easy-to-use content types enable the effortless creation of standardised content while the drag-and-drop interface ensured each page feels fresh.
Integration with CIU's Programmes and Curriculum API database further helped retrieve content to directly publish Degree Courses and Programmes to the website.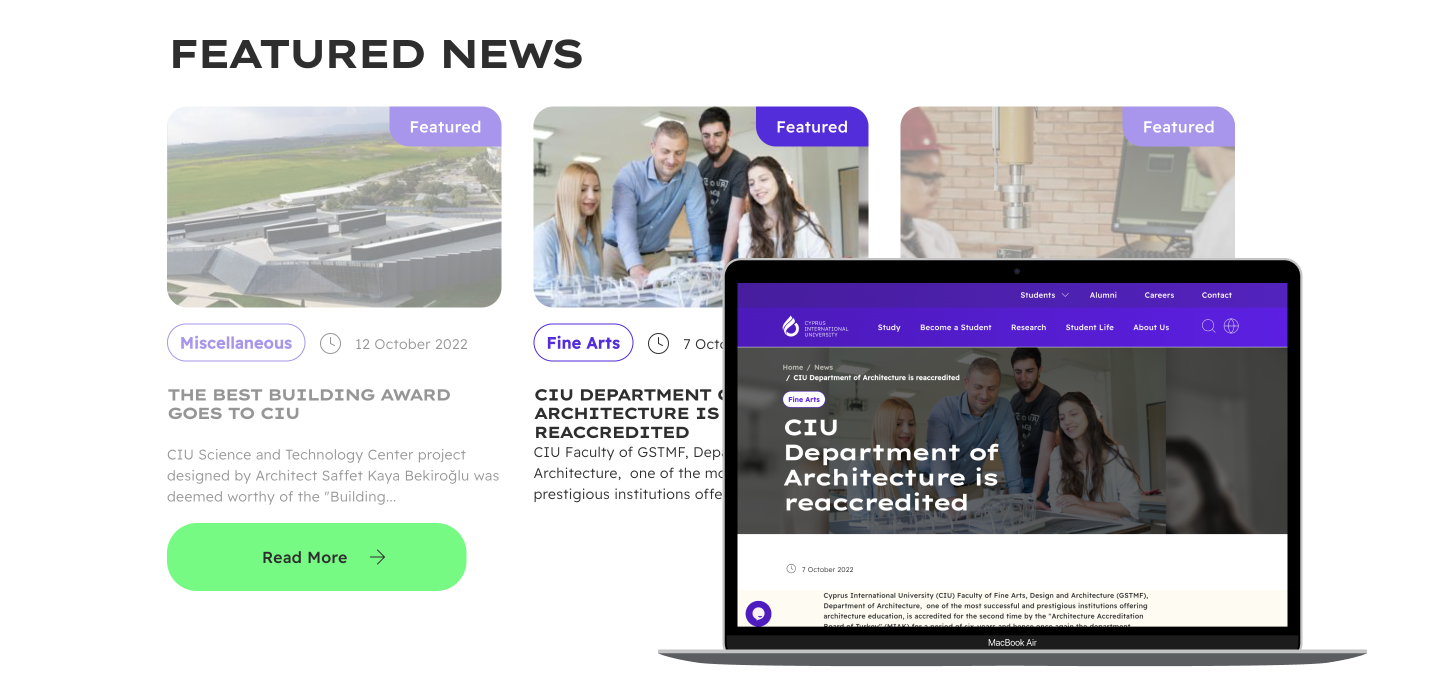 Technical expertise
Catch went beyond standard web design to integrate two information feeds, live chat and search capability into the CIU site. Working with their internal hosting, we introduced a robust technology architecture. This included separate servers for development, staging, production, and a daily backup service. 
Communication
The key to project success is communication, especially when working remotely. Catch's multi-step immersion phase combined workshops, research and technical investigations to present CIU with detailed options for its new site. A structured and frequent communication process ensured CIU was always involved. 
Seamless handover
We worked with CIU to ensure they could autonomously manage their new website from Day One. This included training their internal teams and defining roles, responsibilities and permissions for its content management team. We also ensured the CMS was available in both English and Turkish and that help text was used throughout to ensure ease of content administration.
"As an overseas institution, finding a reliable agency with strong communication was the most important factor for us. In this regard, Catch may be the best agency you can think of. Despite the time difference between countries, they were always available for our needs and questions."
Çiğdem Damla Çiçek, Web and Social Media Coordinator, CIU