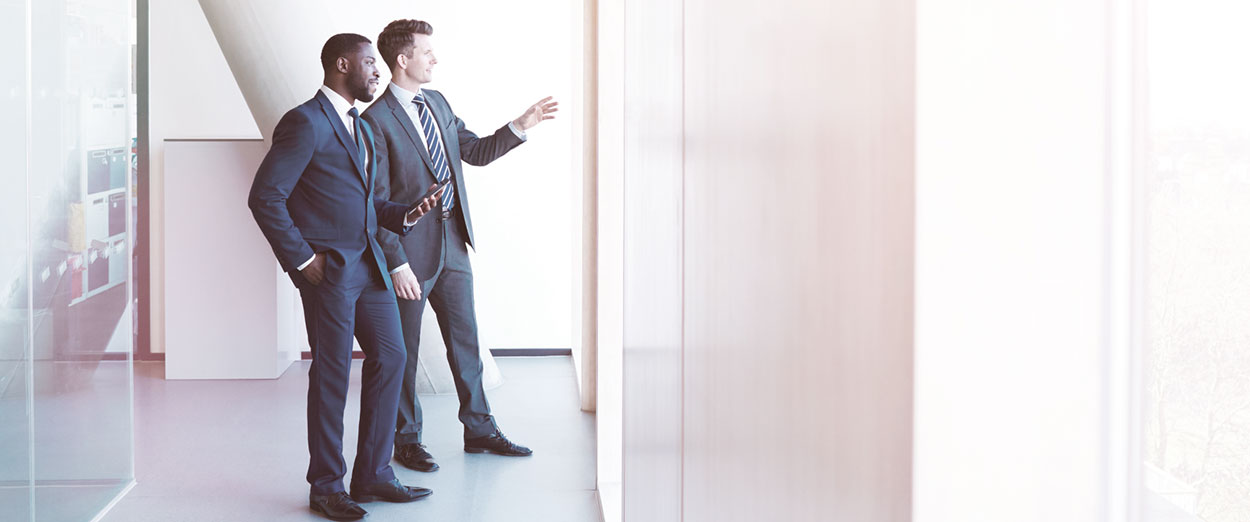 Creating clarity for Swiss Life's complex offering through user insight and design thinking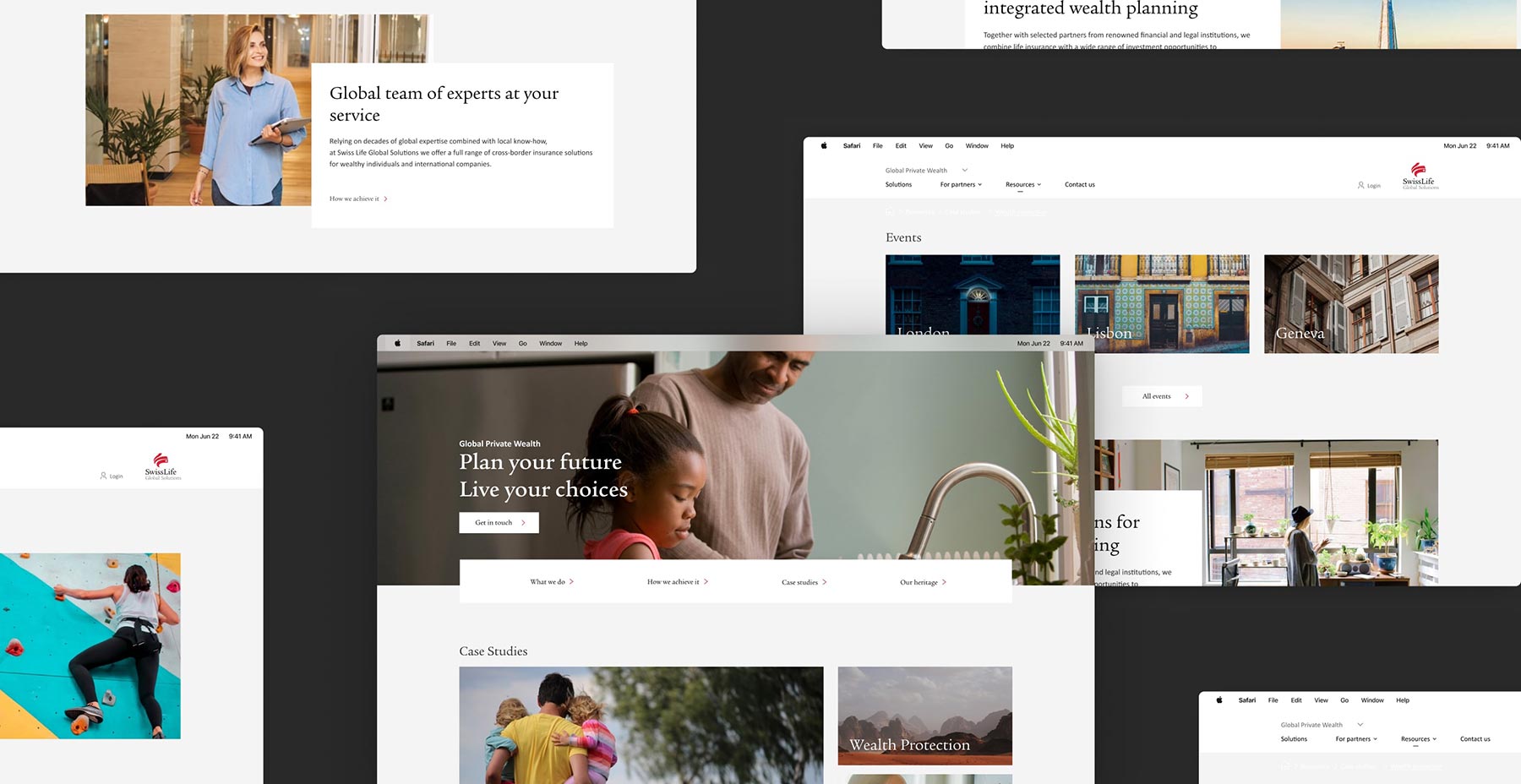 The Swiss Life Group is the largest life insurance company in Switzerland and one of world's leading comprehensive life, pensions and financial services providers. They help high net-worth individuals and organisations enjoy financial security and freedom of choice through more than 160 years of experience.
Swiss Life have a progressive vision for the organisation and how they best serve their customers, but they suffered from a lack of data and insights on how their core target customers use their platform, and as such their existing website suffered from a lack of clarity of information and a low conversation rate. Our role was to help them identify their audience's needs, and translate a highly complex service proposition into something impactful and actionable in the digital space, using our user experience acumen.
Through insight-based digital user experience, we bring together life insurance solutions and investment opportunities, enabling customers to plan confidently for the future and take control of their own financial lives: ultimately to lead "a self-determined life" (the lynchpin of the brand proposition).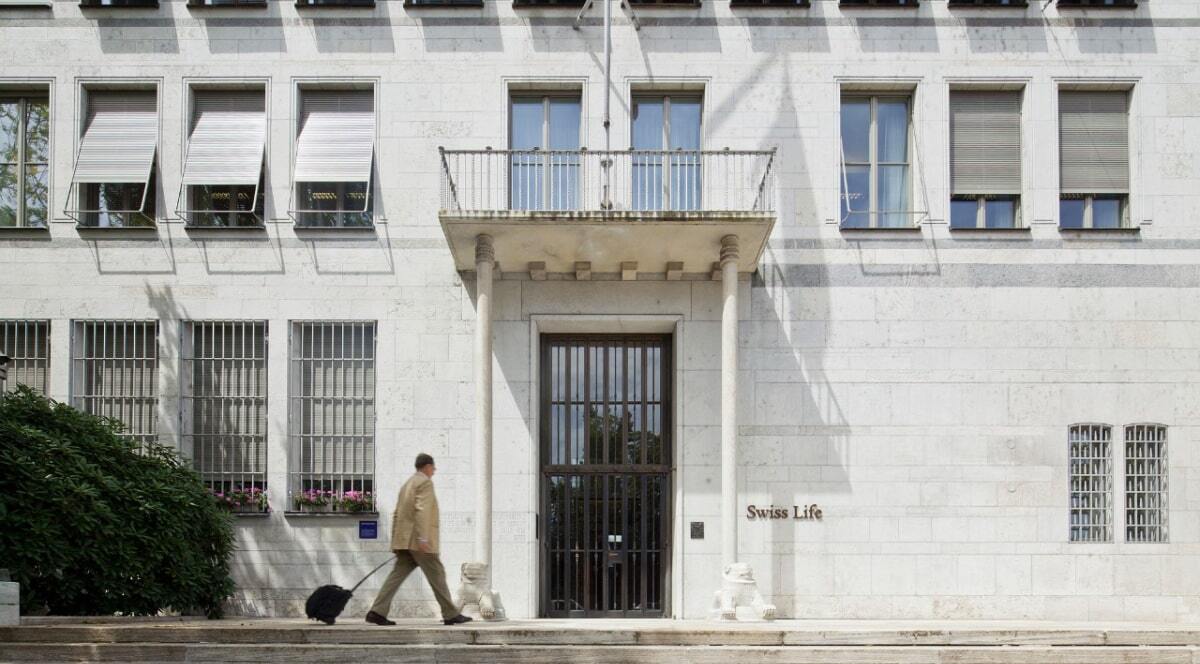 In our customer experience research and strategy, we understood that self-determination means different things to different people. By taking our user-driven approach to a granular level we can be as clear as possible with the overall digital user experience and more effectively use it as a driver for our designs.
We use specific user motivations to translate Swiss Life's brand into guidance for generating content and design briefs which means that we're able to address different user-types needs appropriately in the digital space.

Our user experience focussed research and insights activities for Swiss Life included:
persona creation
service blueprints
user journey maps
content audit + gap analysis
copy + content brief
core user journey(s) prototype
design system
CMS component style guide
Service blueprint, personas & journey mapping
We mapped the entire end-to-end service for the two sides of Swiss Life's global solutions business: private wealth management and employee benefits. This helped to understand the interactions between Swiss Life and their clients at different stages and focussed our attention on the areas where we could help improve the service.
 
This allowed us to create a set of user journey maps which take a detailed look at customer pain points and opportunities which can be used as assets across both digital and offline touch points.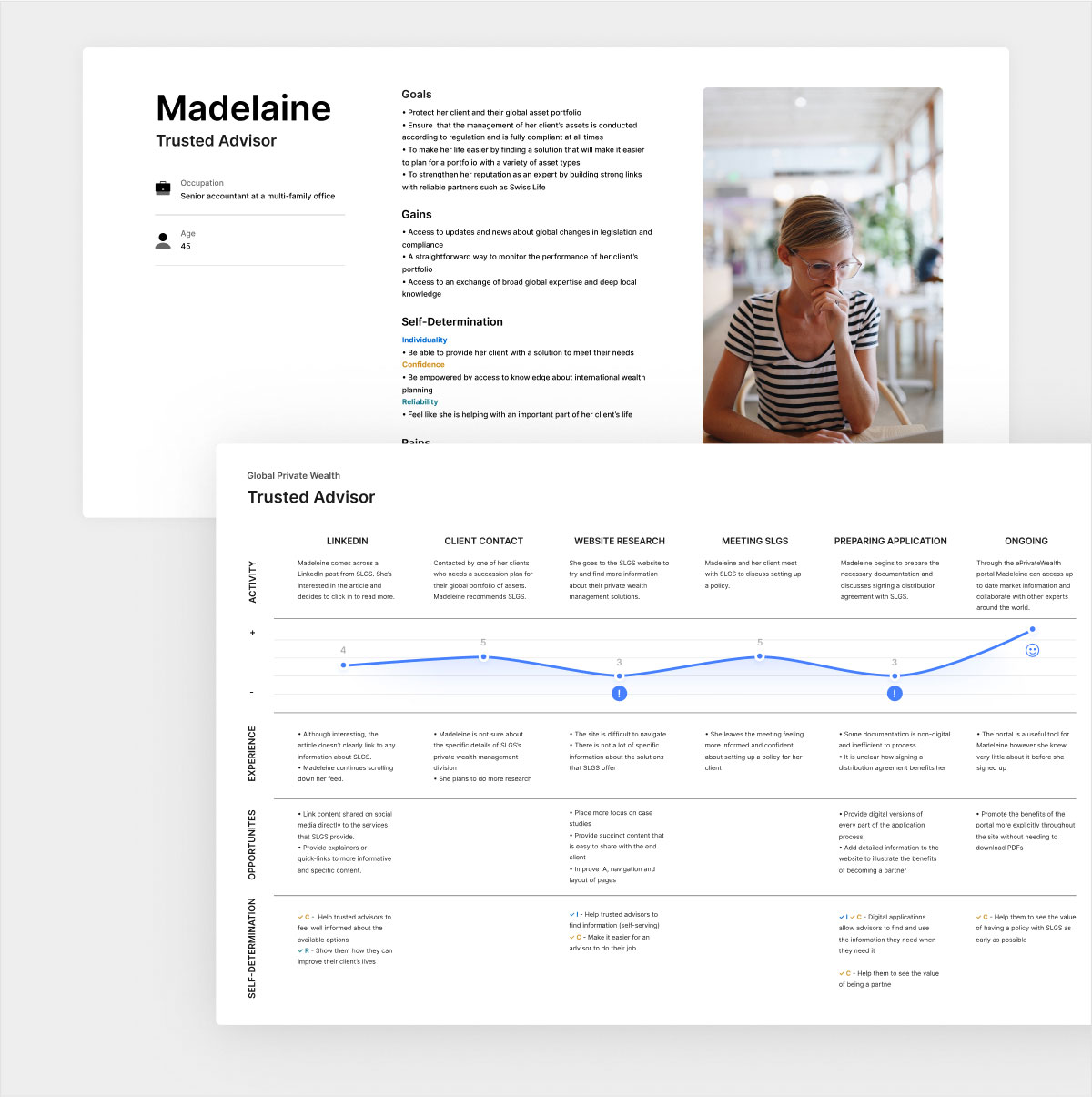 Copy, content & SEO
The personas and user journeys that we generated, as well as further research into the Swiss Life brand, helps form content and copy briefs, giving a clear strategy for how content should be created for each section of the website. 
Equally, part of our user experience and wider digital best practice is to ensure consistent and improved search visibility. Audience and industry research helps us to identify keywords specific to core audiences and working alongside Swiss Life's copywriters, we create highly optimised website content and metadata, in accordance with best practice SEO guidelines.
UI design & enterprise CMS implementation
Previously, the digital user experience for Swiss Life was cumbersome for users: confusing to navigate, with a low-performing information architecture and great swathes of content hidden away in PDF downloads. Equally, the site design wasn't able to communicate the brand identity with the depth and sophistication that it required. 
Once we'd immersed ourselves in the Swiss Life brand architecture and understood the complexity of user needs and paths, we were able to restructure the information architecture of the site against key user goals, extract important content from PDFs and re-consider key lead generation touch points. A singular focus on user experience and crafting of titles, calls to action and copy to reflect the new brand values along with new image concepts means that the entire UI is much more crafted and honed to real end customers. 
We worked closely with Swiss Life's global technical team on implementation of the new designs into their existing Adobe Experience Manager (AEM) content management system, taking care where possible to make use of existing components.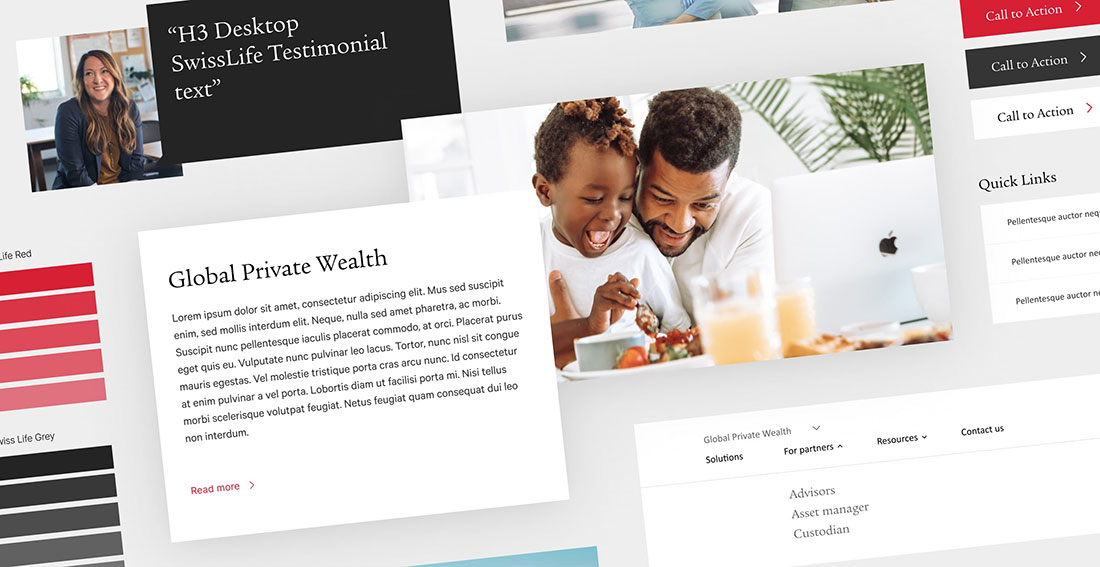 Results
Swiss Life now have a website centered around and informed through research, insights and a solid understanding of the needs of their audience.
The new website design language and content underpinned by their new strategic toolkit provides a foundation giving Swiss Life the confidence to evolve their website in-house as their products and services offering grows.
If you're interested to learn how our Design Thinking consultancy services can help you better connect with your audience, don't hesitate to get in touch.