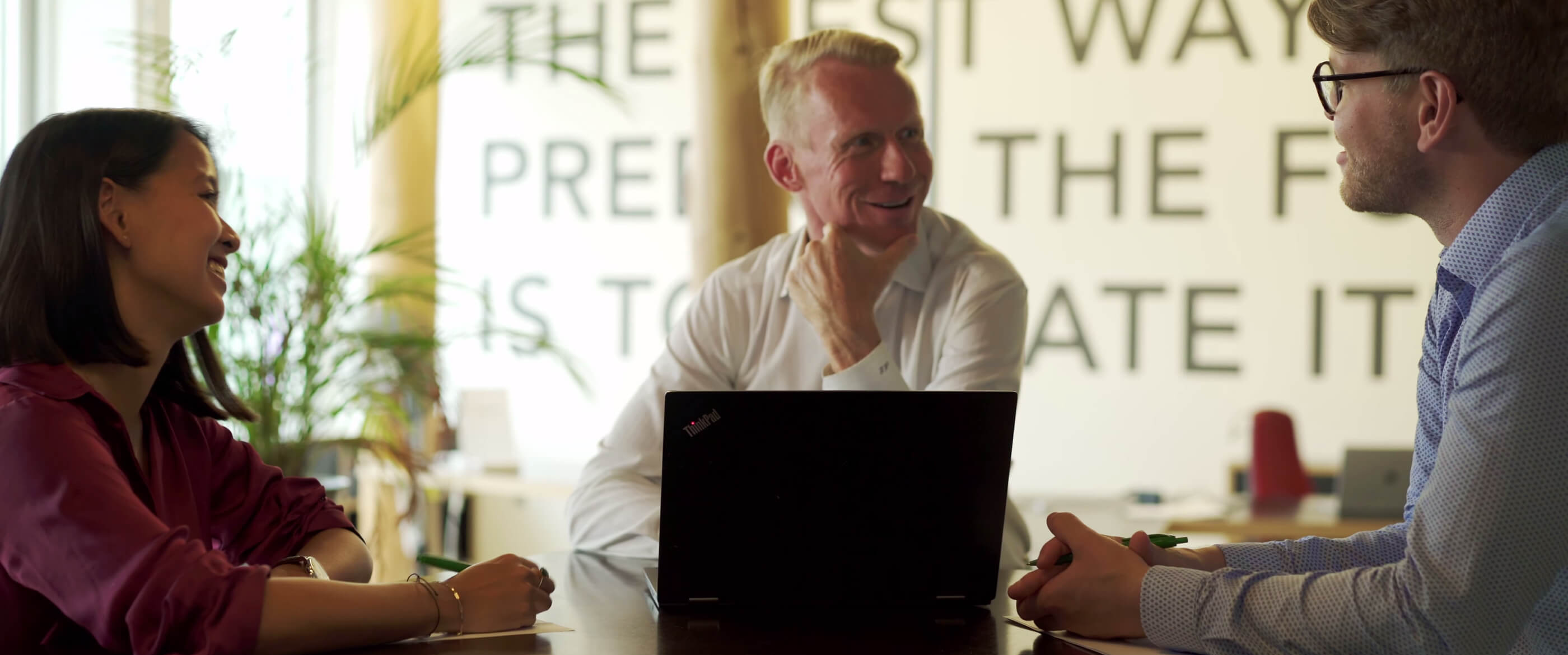 A new brand and website to launch F10 in Spain, in just 4 weeks
F10 is a global innovation ecosystem. Their mission is to unite tech startups with big business to shape the future of banking and insurance. F10's founding sponsor is SIX, a global financial infrastructure provider and operator of the Swiss and Spanish stock exchanges.
The challenge
As the leading Fintech network for financial industry innovation, F10 wanted to expand beyond their hub in Zurich and Singapore into the Spanish market to help realise their ambition of becoming a global network, and to create the future of banking and insurance in Spain.
F10 were on a tight timeline. They were looking for the right partner to take on their challenge, to include complete brand refresh, copy and website in just 4 weeks to meet their immovable Spanish launch deadline.
Delivering during the pandemic
To compound the challenge, both the UK and Zurich (F10's global HQ) were experiencing significant restrictions due to the Covid-19 pandemic. While we would ordinarily form an in-person war room to get a project over the line with this kind of deadline, we'd have to deliver success entirely remotely, the new normal.
Despite the world being turned upside down in 2020, F10's guiding principles aligned perfectly with our own to create a dynamic project team;
Passion and creativity
Can-do attitude
Quality
Co-creation
Agility and flexibility
One-team spirit
Lots of fun
Remote collaboration during lockdown
Deploying our proven dedicated SaaS toolkit for remote success, we used Mural during our Experience Workshops to collaborate on segmenting the audience and defining the overall solution.
A high level of collaboration was achieved via the teams being connected via Slack, enabling fast paced conversion, inspiration, Q&A, feedback, backed up with multiple weekly showcases to keep the wider client team in the loop and ultimately get quicker sign off.
Segmenting F10's core audience and defining the user needs; we architected the site to reflect the collaborative ecosystem created by their 3 core audiences; Start Ups, Corporates and Investors.
While the audience pulls together to create this ecosystem, each audience is distinct and required its own distinct space to explain the value proposition;
Corporates - innovate your company
Start-Ups - Boost your venture
Investors - Maximise your impact
"Catch's agile approach and talented team felt like an extension of ours, they really embraced the startup mindset to deliver fast. The end result more than exceeded our expectations, a truly transformational redesign, looking forward to working together again on further projects."
Andreas Iten, Managing Director SIX FinTech Ventures & F10 Co-Founder
Rebranding, from local to global
The first step in pushing the brand further was to rethink the logo. Our key challenge was to make F10 stand out as a reliable and well-established incubator company, while highlighting a dynamic "startup" appeal.
After initial concepting, we agreed on moving towards a bolder, more colourful and playful look, using different shapes and colours to showcase F10's diverse range of expertise - with startups, investors and corporates - as well as its growing number of locations around the world - Zurich, Singapore and now Madrid.
We wanted to keep the original rocket as a symbol, since it cleverly represents F10's role as a startup incubator. We refined its look to match with the new direction the branding was heading. The new logo was then delivered with branding guidelines, animations and icons to set the tone for the future of F10's platforms and communication. From all of this, we created the user interfaces, with the new branding and guidelines in the centre of all of our thinking.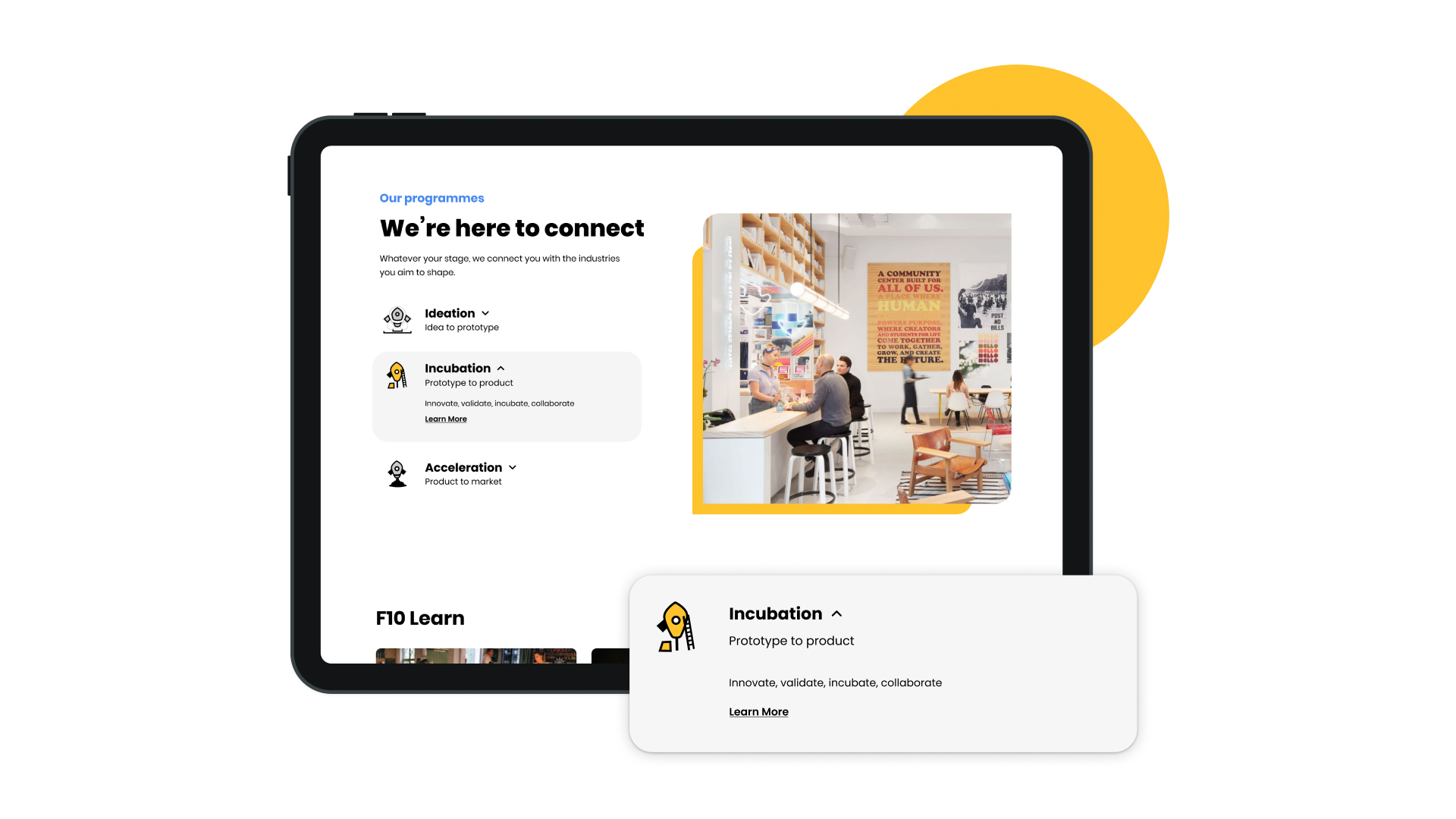 Through fast paced copywriting sessions, we produced new brand copy cementing F10's outlook as truly global, and through the use of the smart platform, we were able to show F10 how the copy looked in situ in record fast time.
Rapid development with Webflow
To move this quickly, we needed a web platform that facilitates rapid design and development, yet provides an enterprise level, scalable foundation for growth. Webflow was the perfect answer to this requirement.
A low-code SaaS platform for "visually-coding" products, Webflow enabled our Experience Design team, without the need to write code, to rapidly build out a fully content managed, SEO friendly, experience within a couple weeks.
"The use of Webflow significantly reduced the time to market by enabling us to design and test the experience directly in-browser with a lean team"
Jonathan Smith, Managing Director Catch
Webflow's low-code approach enabled us to directly take on client feedback in-browser, changing the experience directly in our collaborative sessions. This was key to helping us achieve what some thought impossible, a full CMS website design and build plus content migration within 4 weeks.
Result, a minimum loveable product
23 working days, from our kick-off workshop to go live, we achieved the rebrand, and launched a new content managed website platform populated with brand new copy, alongside legacy content migrated from F10's existing website.
The site launched in time to support the glittering virtual launch event on October 14, 2020, helping F10 bring the future of banking and insurance to Spain.
"Creative ambition, quick decision making and a challenging deadline meant it was fast paced but great fun. The end result is much more than simply an MVP."
Paul Davis, Head of Experience Design Catch
We continue to work with F10 as they join the cutting edge of FinTech, InsurTech, RegTech and DeepTech and connect the brightest startups, corporates, investors in Spain and beyond.