Salford Professional Development helps over 9,000 people per year keep up with changing workplace demands through new skills and qualifications. It is a commercial arm of Salford University. 
The brief
Since 2017, we've partnered with the University of Salford in the design, development and roadmap for their university website. In 2022, Salford Professional Development (SPD), the continuous professional development arm of the university, approached us to bring their website across to the new digital ecosystem.   
SPD's head of operations was frustrated with its ageing CMS, which was costly to maintain and did not give them the control they needed when creating content. Creating new courses - and other pages - took excessive time and wasn't very flexible.
They also wanted a new look and feel to engage their busy professional clients and drive sales of courses and conferences.
Our objective was to create an exceptional buying journey for those interested in Salford Professional Development's (SPD) courses, conferences and in-house training. In addition, to enable SPD's marketing team to easily manage content on this important marketing platform.
Our immersion workshops explored the needs of SPD's different audiences. The audience groups had commonalities, such as the need for course filtering and different communication options. However, there were also differences; for example, senior directors required at-a-glance information rather than a detailed rundown of course information.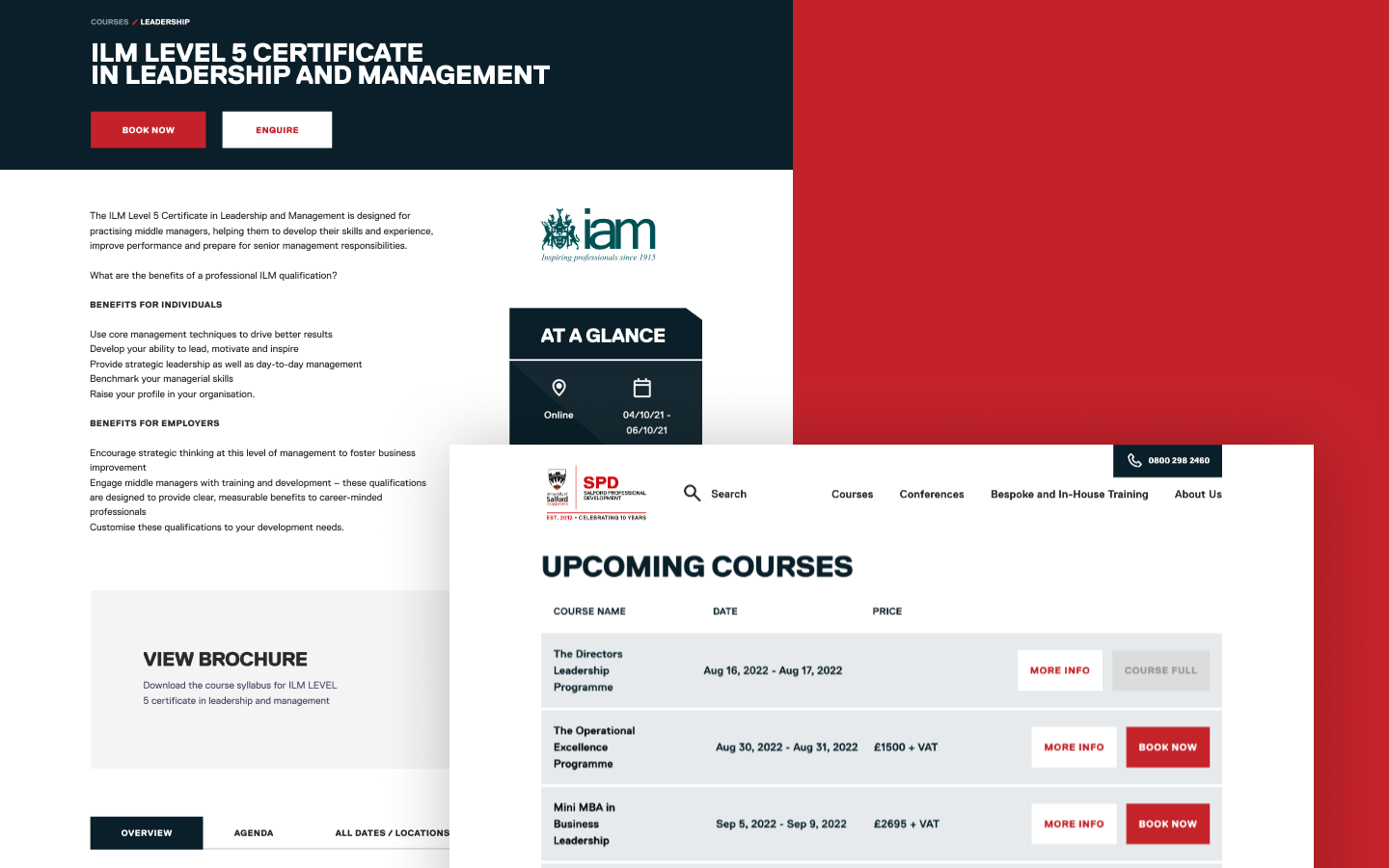 Navigation
Following the audience definition, Catch designed the primary navigation to allow easy wayfinding. In addition, secondary navigation allows the user to return to the main website and contains CTAs to call the SPD team directly.
Course pages have CTAs and an at-a-glance section to give users a quick summary of what the course entails. Contact options are shared at several points throughout the user journey. 
 
A Dual Identity
Catch created a visual design which nodded to the Salford University site while appealing to SPD's audience of workplace professionals.
While the University site caters to all ages researching further education, SPD targets busy professionals, often at leadership level, who are highly task-driven with a particular course in mind. 
To differentiate the SPD site, we pared back the design touches of the Salford University visuals and gave it a clean white background (Salford University has since adopted this style).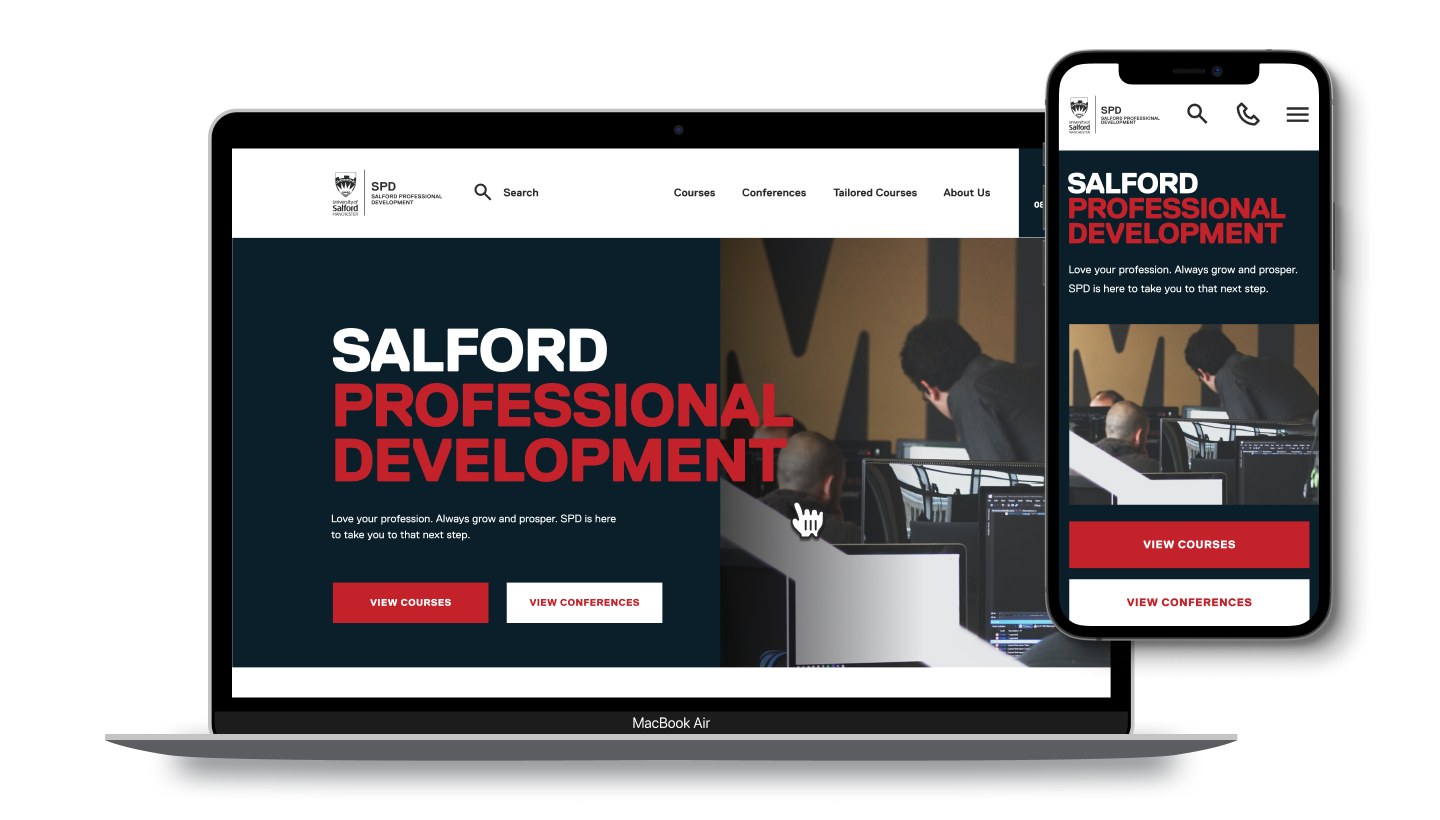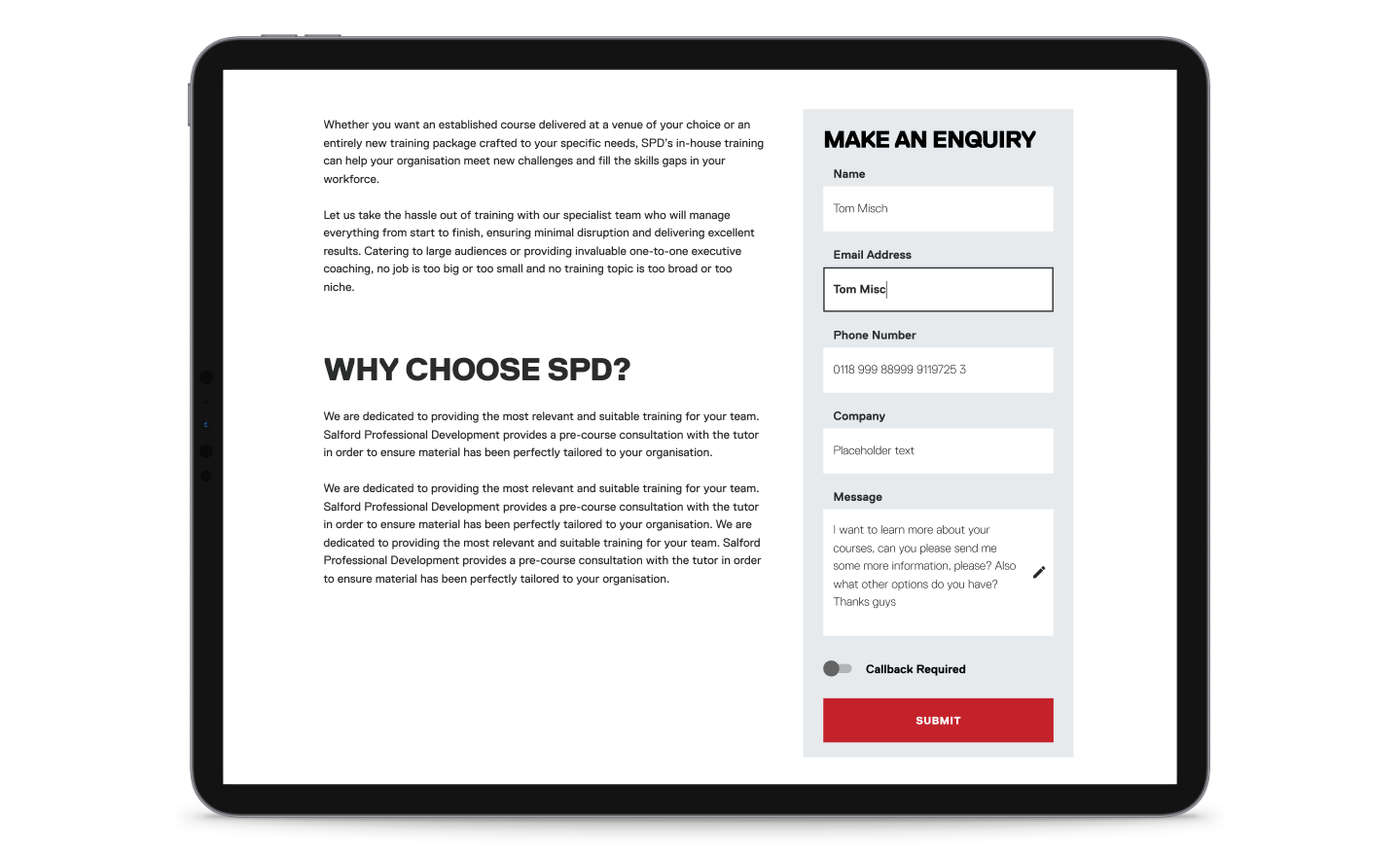 The New User Experience
Max is a senior IT manager seeking to improve his cyber security knowledge. He grabs five minutes between meetings to check out SPD on his desktop. In one click, he has found the Cyber Security Leadership Programme and how much it costs (important info to send to HR). Unsure about one of the course modules, and with time running out, he jots a quick question in the feedback form. There is a response waiting by the time his next meeting ends.  
A Multisite with Multiple Benefits
To drive value, Catch suggested that the UoS platform be converted to a multi-site model. It would use the University of Salford's Drupal 9 core codebase while maintaining its own database and front end. This way, SPD would benefit from updates to the parent site, such as security patches, while having the freedom to maintain their own content, administration users and design.
Making the link 
SPD manages its courses using the customer relationship management (CRM) system BrightOffice. The new platform needed to interface with this to retrieve information, such as course descriptions, dates and pricing. 
The CRM had been built around the existing website over several years. Without a straightforward API, Catch had to carefully analyse SPD's architecture to integrate BrightOffice with the new platform. It also had to ensure robust outward and return payment journeys.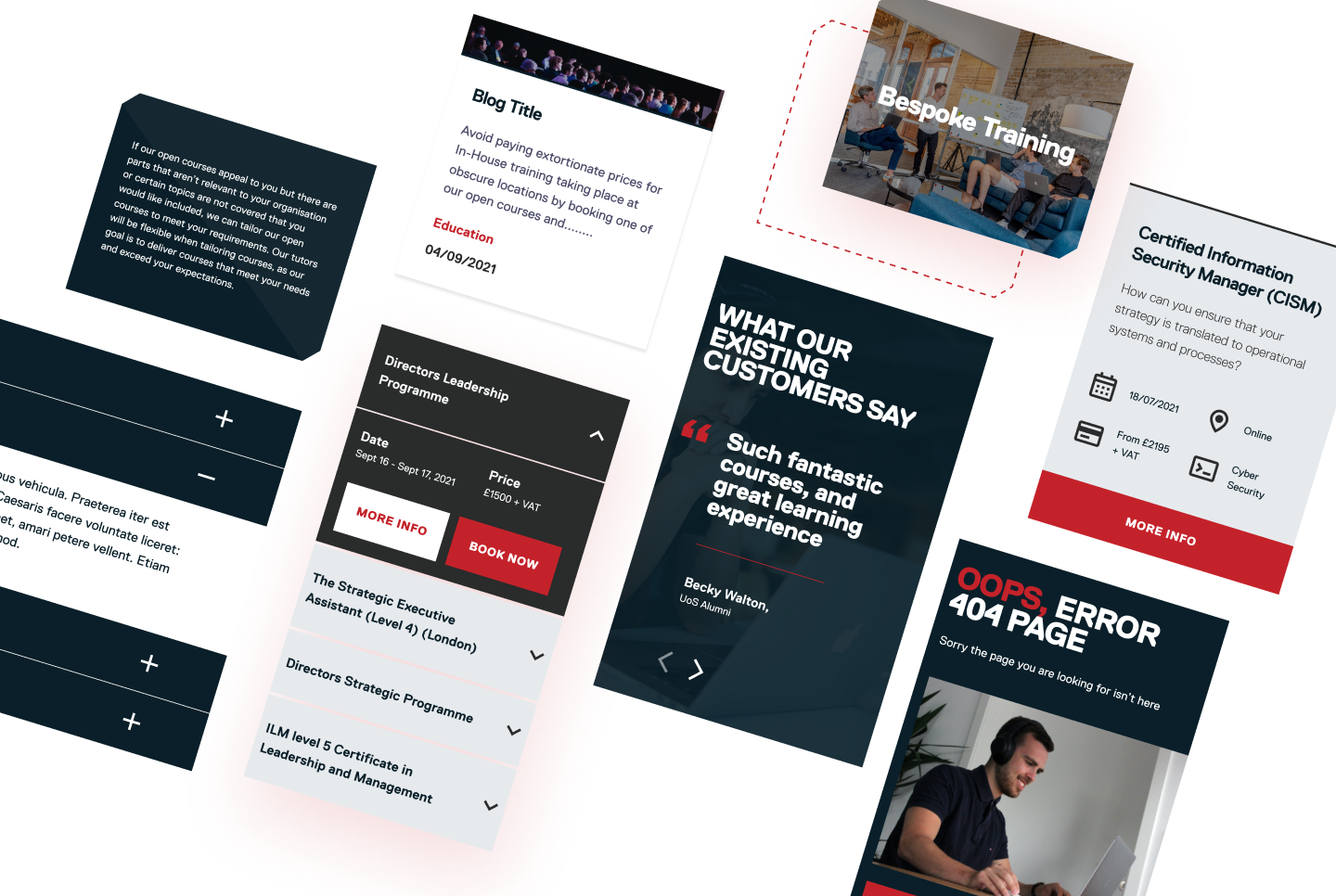 The new website significantly increases the ease with which SPD's marketing team can design and manage content. Switching from a licensed to an open-source platform also reduces operating costs (as does the multi-site model). 
Meanwhile, the platform offers end-users an efficient customer journey and multiple contact customer service routes - the type of good business practice that SPD's courses seek to instil.