TTTech Auto provide safety software, hardware and services systems for next generation cars. They specialise in driver assistance and autonomous mobility for marques such as Audi, Porsche and Lamborghini. Their technology is used in millions of vehicles worldwide.
Our Objective
To create a look and feel that positions TTTech as a cutting-edge player and thought leader in autonomous driving safety software. 
The Challenge
TTTech supplies an industry in which product unveils are a media event, dramatic visuals dominate advertising, and design is king. Their website needed to reflect the aesthetics of this future-defining sector. Their software – particularly the hero product, Motionwise – had to stand out. But how to bring something with no physical presence to life? 
Our immersion process enabled deep exploration of the site's potential look and feel to reach a design that was functional and reflected TTTech's cutting-edge services. 
A palette of deep blues and greys reflects TTTech's authority and reliability, while graphic illustrations and rich photography immediately convey 'automotive', 'safety' and 'technology-led' to online visitors. Space allows imagery to breathe, and a unique lozenge motif is repeated in graphics and dynamic call-to-action components.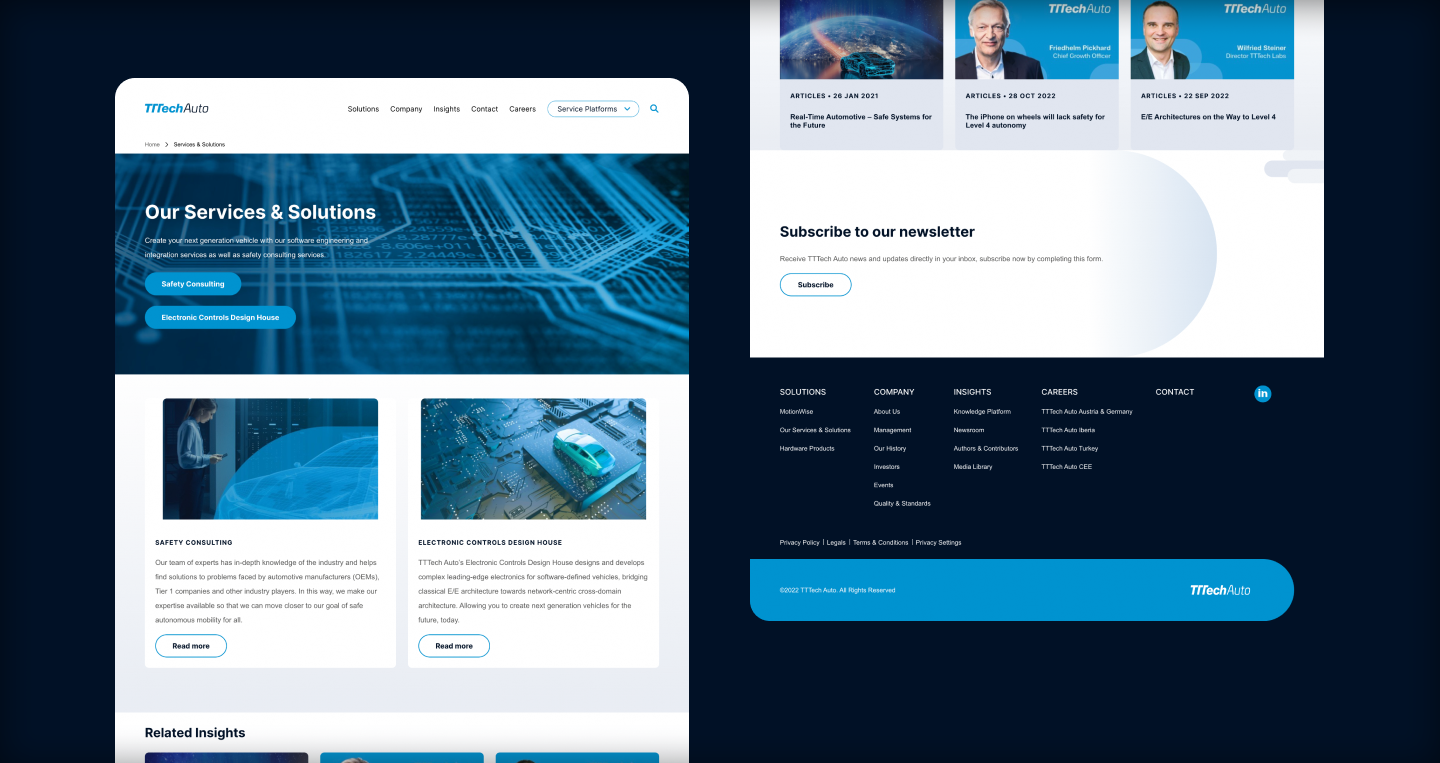 Defining the user journey
Our experience workshops identified the website's audiences and listed their goals and pain points. The findings informed an information architecture that quickly guides each group to the right information. 
TTTech's clients include prestige and mass-market car marques. Within these sit two audiences: buyers and product users. Potential employees were also an important consideration. Clear menu headings signpost buyers to the solutions page, developers to the test environment and job hunters to careers listings. 
The homepage immediately invites all users to check out the latest updates on its insights page, which showcases TTTech's authority as a cutting-edge thought leader. Contact forms and social media links invite the user to engage with TTTech throughout their web journey.
"Our website has been given a much fresher, more modern and brighter look. It is much easier to navigate, which improves the user experience, leading to interest in our solutions and business opportunities."
Marija Sokcevic, Technical Content Manager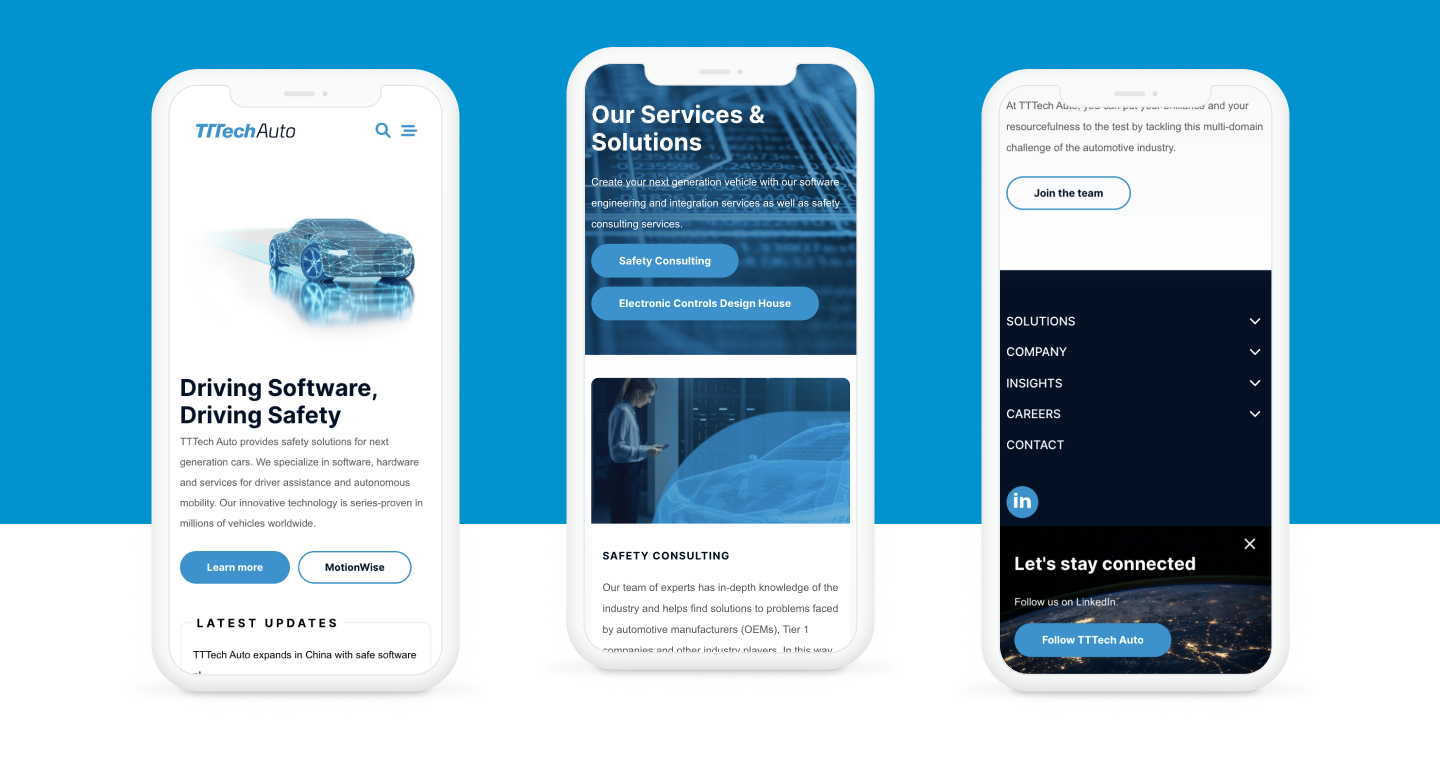 Set up to scale, set up for success
TTTech Auto is part of a collection of a wider group with arms in aerospace, chip development and autonomous industry. We recommended Drupal 9 as the new site's CMS as its multisite capability gives the wider TTTech group the flexibility to add sister sites as and when they choose. 
Drupal also enables the addition of different content types to keep pace with TTTech's needs. One of TTTech's frustrations with its prior CMS was the lack of design flexibility. We created a toolkit comprising a suite of components that fit flexible page layouts. This enables them to evolve the website according to their needs.  
To meet TTTech's web-quality KPIs, we used the latest practices in image optimisation and lightweight coding to ensure Core Web Vitals were as strong as possible.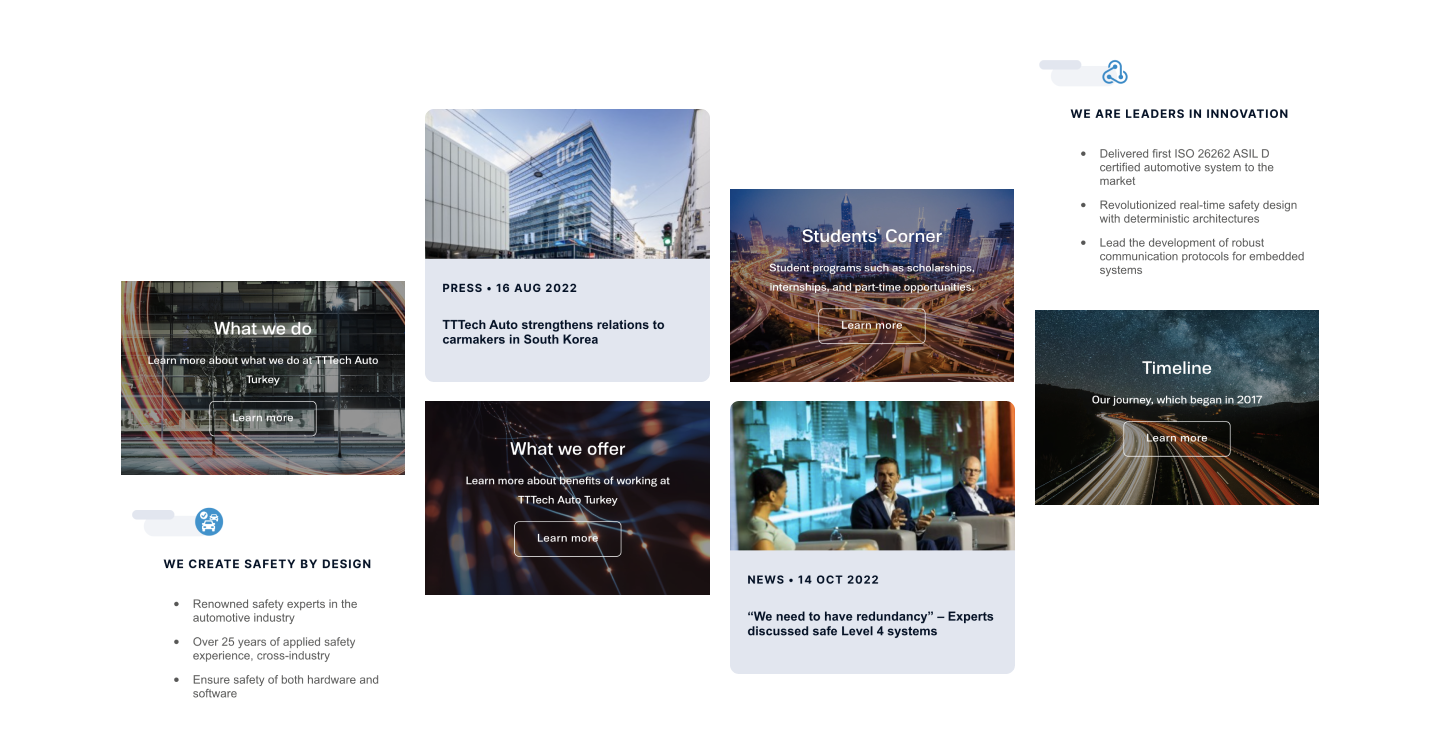 TTTech's marketing team wanted a platform with a strong visual impact. We helped them refine their vision through a series of workshops on competitor benchmarking, audience definition and information architecture. The result is not only a platform that looks good but truly represents TTTech's authoritative position in a fast-moving field and ensures the delivery of high quality leads to TTTech Auto's sales team.
"Sales receive a lot of inquiries and leads either through our contact page or through the request-for-quote form. Additionally, the information in these forms is better structured and it is possible to request multiple products in a single step."
Marija Sokcevic, Technical Content Manager