Skip to main content
20 Jan 2020
2020 UX/UI internships
We're committed to helping the next generation of digital superstars get a foothold in the industry, so each year we offer a paid internship scheme, and we've just launched our 2020 programme.
If you're thinking of applying, please check out our careers page to see what's on offer at our Digital Agency in London.
We interviewed one of our 2019 UX/UI placement students Simon Le Roux on his experience of joining our Creative Team in London from l'Ecole de Design in France.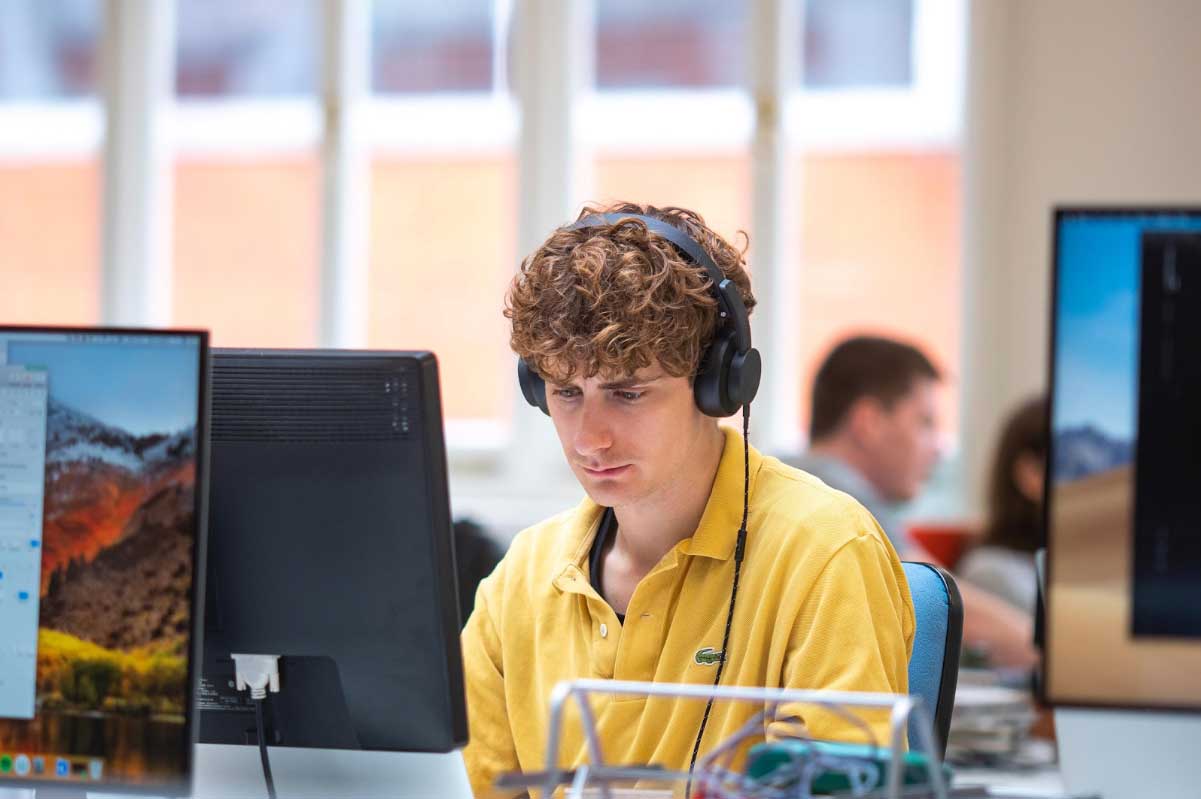 What made you want to work at this Digital Agency in London?
I loved the UI designs I'd seen from Catch and recognized myself in their approach of design, so I applied spontaneously and am so glad I got to spend the 6 months here in London.
I've been wanting to work in a full-sized digital agency in London for a long time now, after having only been working with small teams of designers and startups - so the opportunity of working every day alongside designers, developers and project managers as well as what really brought me here.
What did you work on?
My main role was working cross both UI and motion design, I had the chance of having a lot of responsibilities on some of Catch's main projects, as well as interacting with clients on a daily basis, also visualising through sketching and wireframe prototypes.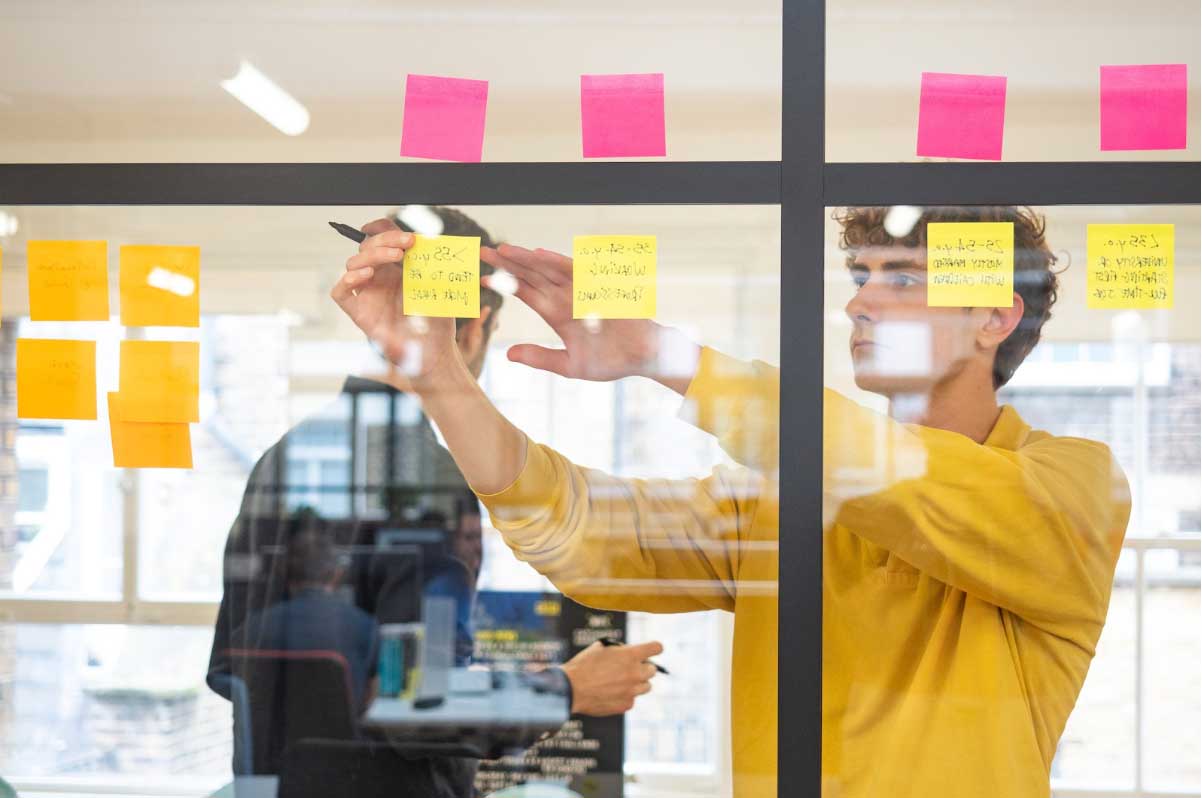 What did you learn?
Because I worked on so many different projects, I was able to gain skills in a lot more fields than I thought: UI and UX mainly, but also animation, illustration, as well as being able to explain and present my work to both project managers and clients.
I also learned what it was like to work with many different people and being able to learn a bit more on all the different steps of a project and all the people involved.
What was it like being in a Digital Agency's London studio?
I had a blast, really. The atmosphere is really nice there, everyone is really outgoing and welcoming, you get to meet people with different backgrounds, and you never get bored. You can easily fire questions at anyone, and they'll always take the time to explain and help you.
And Friday's catch-ups are just great, doing presentations and drinking beer(!), never seen a better way to end the week.

What was the highlight?
I'd probably say a showcase video I got to do for one of our clients, on which I had to animate some designs I'd created to give an overview of the whole product. It gave me the opportunity to mix UI and motion design, and I loved it!
 
What's next?
The internship officially marks the end of my Master's degree, I'll get my design diploma in September. After that, I'll be taking a gap year and travel around the world,  I'll then eventually look for a full-time UI/UX job. Maybe even in a Digital Agency in London like Catch, who knows?
If you'd like to apply for our 2020 UX/UI internship opportunity, please apply via our careers page.
14 Jan 2020
Upgrading to Drupal 9
Big things are happening in the Drupal world this year! Drupal 9 will officially be released on the 3rd of June 2020, giving Drupal 7 and Drupal 8 users little over a year to upgrade to Drupal 9 when they reach end-of-life in November 2021.
Now is the best time to start preparing for Drupal 9 whether you are on Drupal 7 or 8 - or even on another platform entirely.
As you can imagine, we're really excited about Drupal 9 here at Catch, so we've had a think and put together our recommendations on what you should be thinking about how to prepare your websites for Drupal 9, (and, spoiler alert, why you should make the move to Drupal 8 now).

What is Drupal 9?
Essentially when it launches, it's intended to be the same as Drupal 8.9, but with deprecated code removed, so if your website has been maintained correctly upgrading will be super straightforward. 
This means that Drupal 9 will ship with all of the awesome new functionality that was added in Drupal 8, such as Media, Configuration Management, Migration, Multilingual, Workflows and an API-first architecture.
It also means that, unlike previous upgrades, you won't have to wait long for the community modules to be updated - early adoption won't be punished. As far back as April 2019, 44% of the 7,000 modules available for Drupal 8 have been confirmed as ready for Drupal 9.
But what does all this mean? 
First and foremost, it means the community are ready and raring to go and your upgrade from Drupal 8 to Drupal 9 will be a breeze compared to any previous platform upgrades you may have undergone  Secondarily, with this new, clearer upgrade pathway established, when Drupal 10 comes out, the upgrade from Drupal 9 to Drupal 10 will be just as simple.
"Great, but I'm still on Drupal 7"
You may have kept Drupal 7 as your trusted CMS for many years - possibly even since it was initially released back in 2011. Migrating websites is a large task so we totally understand why you have held onto it for so long.
With Drupal 7 reaching end-of-life soon (and yes, two years counts as soon!) now is the best time to migrate to a new version of Drupal. You'll have lots of things to consider, one of the biggest being should you move to Drupal 8 now, or wait until Drupal 9 is released?
We strongly recommend starting the migration process sooner rather than later with a move to Drupal 8, the main reason being that migrating to a new platform takes a lot of planning, and if you're also looking for a new digital partner the procurement process can be a long and gruelling one.
Our Immersion process is designed to help you discover just what it is you - and more importantly, your users - need from your digital platform. We work collaboratively with you to establish both business and user goals, requirements and content needs, creating prototypes to help solve tricky user experience conundrums and build-out and complex technical integrations you may need. With the hard work out of the way, migrating to Drupal 9 will be a breeze!
Get in touch to chat to us about migrating to Drupal 8 - we'd love to be a part of your journey.
"I've already made the jump to Drupal 8, what do I do now?"
We've been using Drupal 8 at Catch since before its full release in December 2015 so our clients have been feeling the benefits of Drupal 8 for almost five years already.
As well as some amazing performance improvements to serve your website to your users quicker, new functionality was added to Drupal 8 which you and your users have been getting the most of, we've put together some of our favourites.
Multilingual out of the box - previously you needed to use many modules to reliably be able to translate your website, with Drupal 8 it's available out of the box
Configuration Management - This has been added to Drupal to make keeping environments in sync much easier. Gone are the days of 'but it worked on this environment', only to find out someone had missed a step
Migration - good news if you're looking to migrate to Drupal 8 before upgrading to Drupal 9. Migration is available out of the box and is simpler to configure and ever before
Workflows - can be customised to manage your content authoring process, or even for the flow that a product has to go through from purchase to shipping
API-first architecture - Create your content once and use it across your website and apps
Media - fed up with uploading the same image twice? Drupal 8 comes with Media library for you to re-use your images and other media across your website
As Drupal 8 will also become end-of-life in November 2021, there is over a year to get ready but we are starting the process of making sure our clients websites will be ready for Drupal 9 now by auditing the code to make sure the code we have used hasn't been deprecated since we implemented it. We recommend you do the same.
Already on Drupal 8 but not sure if you're ready for Drupal 9? We can help! Get in touch to talk to us about auditing your current site to make sure you're Drupal 9 ready!