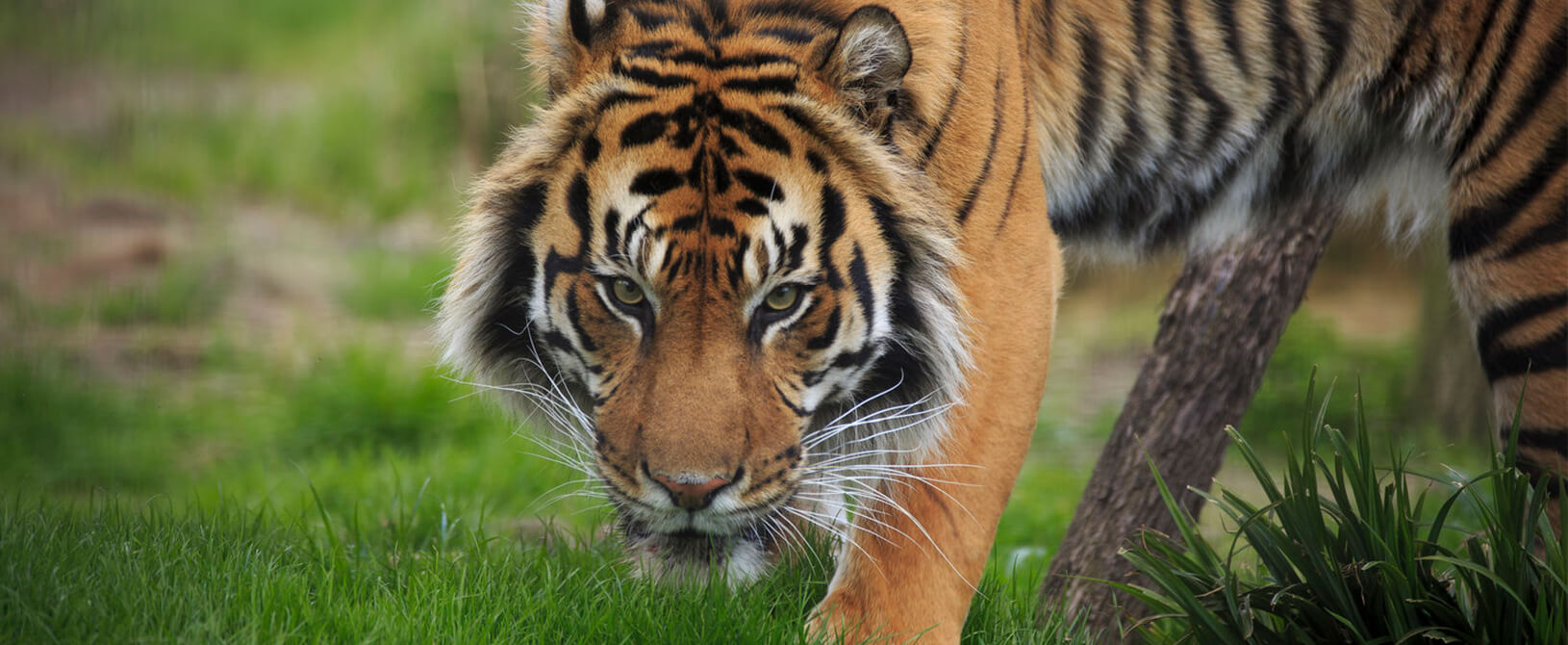 Using digital to promote and achieve the worldwide conservation of animals and their habitats with ZSL
The Zoological Society of London's (ZSL) mission is realised through groundbreaking science, active conservation projects in more than 50 countries and two Zoos
ZSL is an international scientific, conservation and educational charity founded in 1826, most famous for owning and running both ZSL London Zoo and ZSL Whipsnade Zoo.
Our focus
We've been ZSL's digital partner since 2013, and our focus in on ensuring that they are utilising their digital channels effectively for the best customer experience, while raising the money required to undertake their global conservation efforts effectively.
We're responsible for the strategy design, development and support of the ever evolving multi-faceted platform which we've worked in partnership to create over the past 5 years.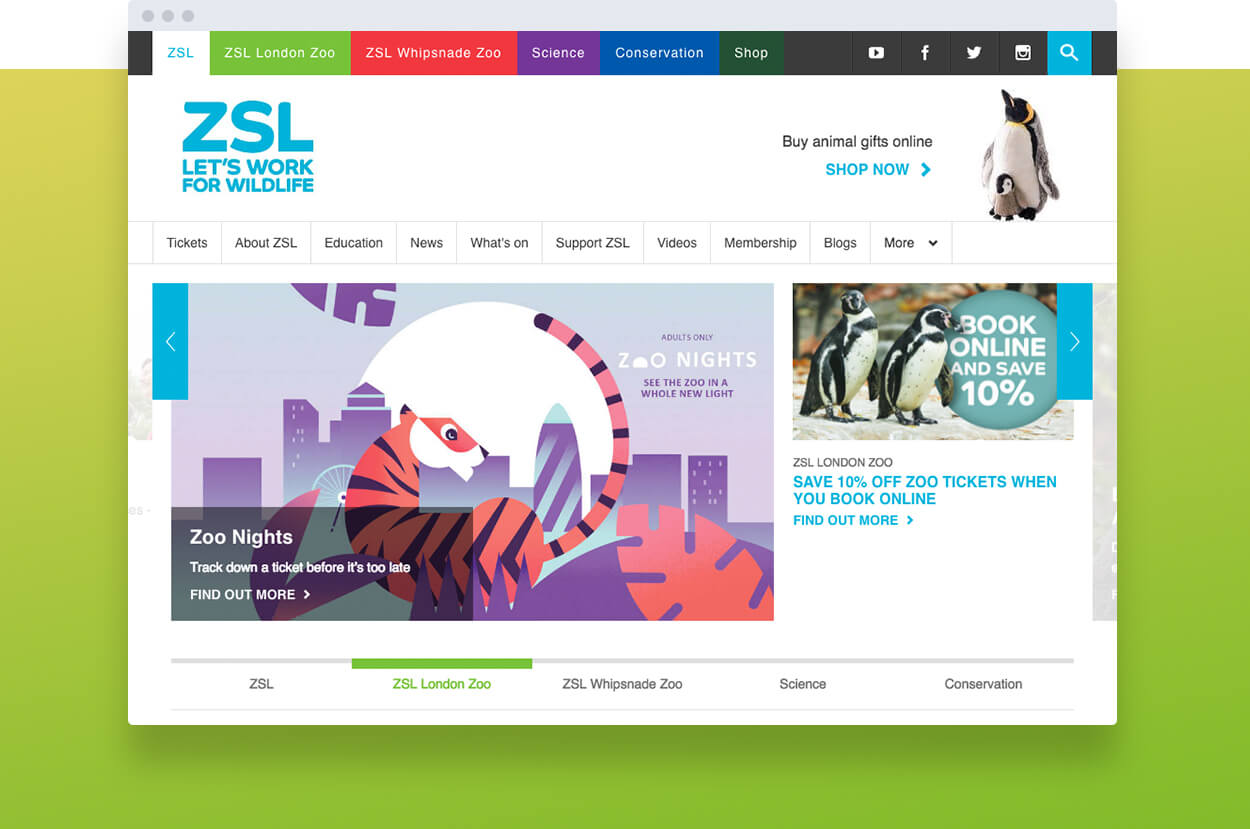 A platform for the future
Our first engagement with ZSL was to provide a future-proof and flexible platform to enable them sell tickets for both London and Whipsnade Zoos while promoting their global conservation efforts.
Following our Immersion Phase, featuring stakeholder workshops, audience research and insights we produced an interactive prototype then approached the design phase with a mobile-first methodology focused on creating an engaging user experience without compromise.
Drupal was selected as the CMS framework of choice and we worked closely with the ZSL digital team to ensure that we created an editing experience that would allow them to create fantastic content for their passionate user base.
Payment platform facilitates £9m+ of sales (2017)
Server infrastructure planning and implementation to create a high availability site which receives huge peaks in traffic
Large scale content migration project involving many thousands of news items, blog posts and pages of content
Responsive design to provide a great experience for users on all platforms + devices
Restructured navigation surfacing the wide majority of content and ensuring ZSL can appeal to their diverse target stakeholder groups
Powerful admin tools allow for the management of 100+ content editors globally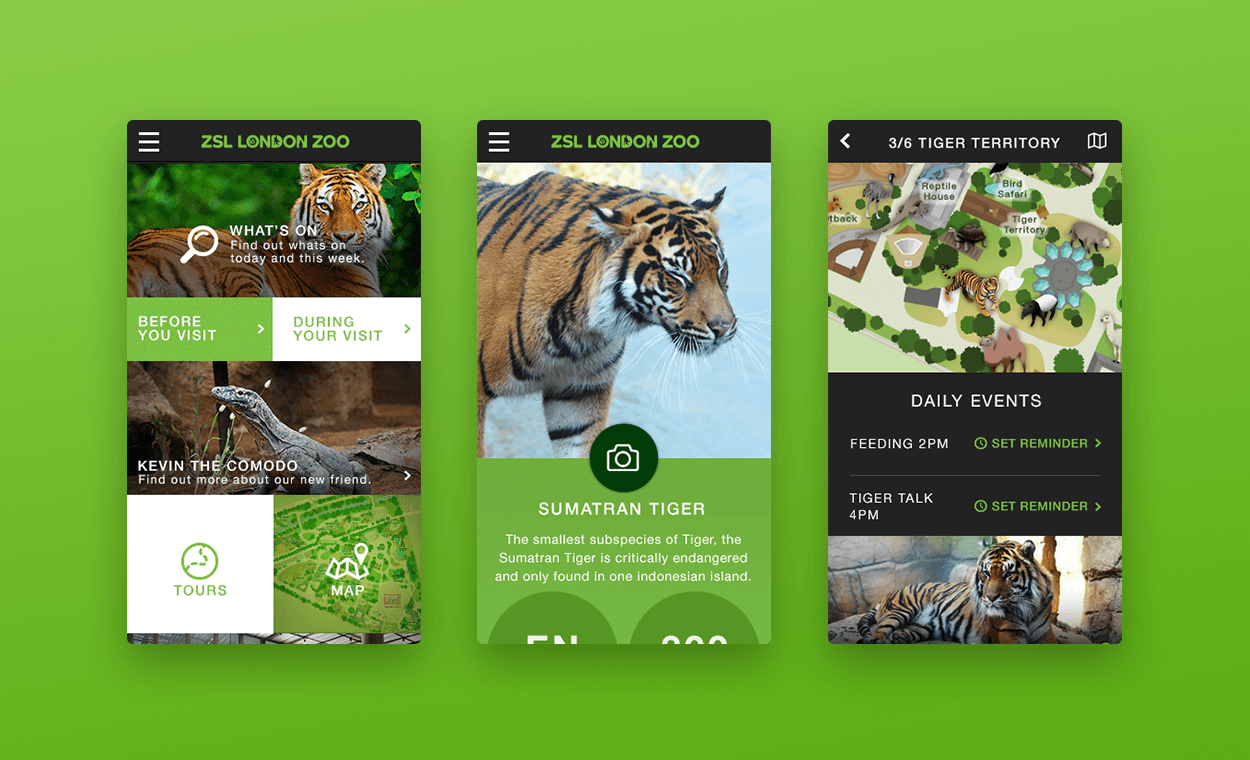 Enhancing the customer experience
So you've bought your tickets online, you're excited about your visit, but what about when you get there?
We've designed and built ZSL London Zoo's official iPhone and Android app, featuring everything you need for an amazing visit.
Find out more about your favourite animals, create your own bespoke tour or follow one of ZSL London Zoo's, find out about the exciting daily events, set yourself reminders, and play the Walkabout Game, where you find and photograph animals to win Explorer trophies and Spotter badges!
Before you get to the zoo use the app to buy tickets, get directions and plan your visit. Once at the zoo you can use the "What's on" section to find out about daily animal talks and events.
Make the most of your time at ZSL London Zoo, all with their free app!
Search "ZSL London Zoo" in the Google Play store on your Android smart phone or the iPhone app store.
Key features of the app:
Animal facts, photos and videos 
GPS enabled interactive zoo map showing where you are and what is near you 
"What's on" planner showing all daily events around the zoo 
Visitor information – planning your visit 
Walkabout Game - find and photograph animals to win badges and trophies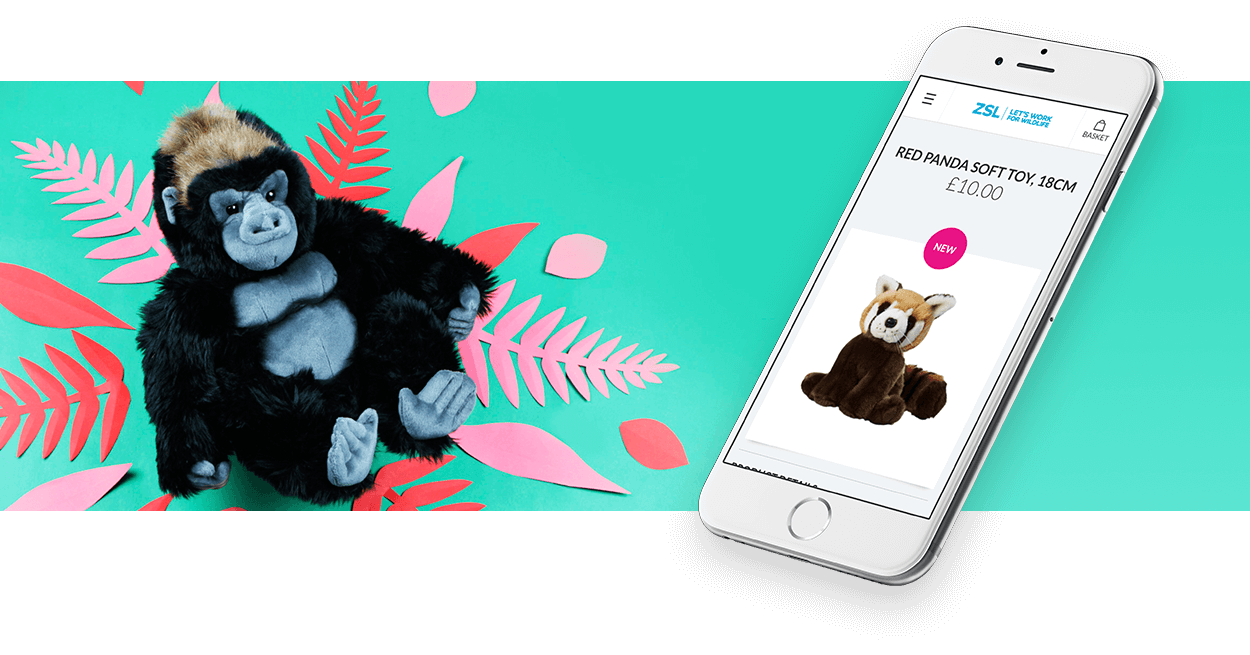 The UK's most roar-some gift shop
As a charity, ZSL receives no state funding and don't make a profit. They rely on the support of people who also care passionately about wildlife. So we worked with ZSL to extend the platform we previously created to enable a new revenue stream, selling cute, cuddly toys.
You can forget trawling the internet for beautiful homeware, unique children's toys or quirky clothing, we've created the one-stop shop for animal lovers of all ages, powered by Drupal.
ZSL London Zoo proved its credentials as the wildest shop for gifts as it scooped 'Best Museum/Visitor Attraction Gift Shop' at The Greats Gift Retailer Awards 2017.
"We're thrilled to launch our exciting new online shop. With wildlife around the world facing unprecedented threats, being able to help from the comfort of our homes is brilliant, and that's what shoppers will be doing when they buy a gift from ZSL"
Rich Storton, Director of Communications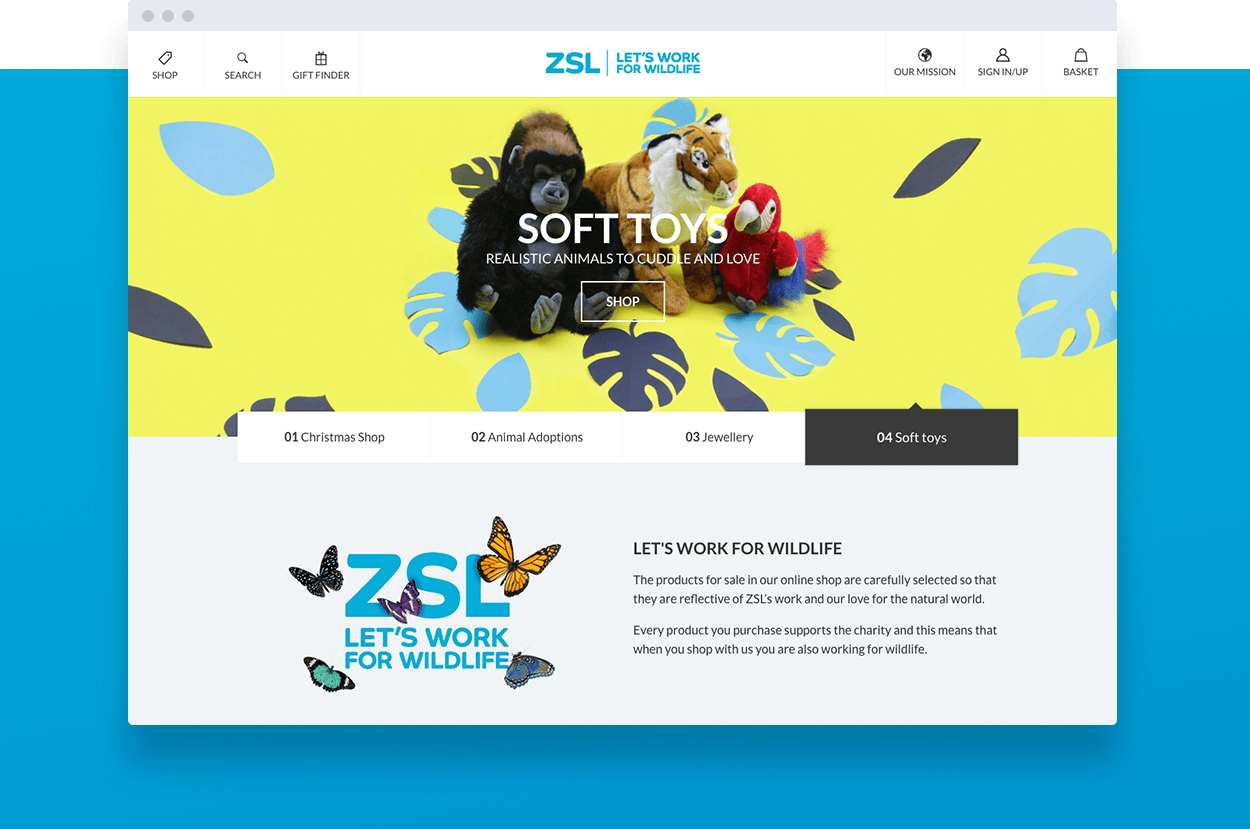 Empowering citizen science
Perhaps one of the most technically challenging and rewarding projects we've partnered with ZSL on is the Instant Wild initiative. See our dedicated case study for more information.
Instant Wild is a devoted community making more than three million identifications. Since its launch, Instant Wild has helped to track the status of the world's species and protected areas.
Over 2018 and beyond we will continue to add conservation projects. From the soaring treetops of the Amazon rainforest, to the shores of the Thames Estuary, the app will be working hard to enlist virtual volunteers in support of our teams on the ground. Instant Wild 2.0 will be integrated within education and learning landscapes and as a platform for calls to action on conservation issues, helping more citizen scientists than ever before support ZSL's work around the world.
Instant Wild enables more smartphone users than ever before to join the fight to save wildlife
Go wild with ZSL TV, available on Apple TV
Talking to our remit to leverage digital to help spread the conservation message among new audiences, ZSL TV is a brilliant way to show off the best new video content direct from both London Zoo and Whipsnade Zoo, as well as their global conservation projects.
As a real guerrilla project, pardon the pun, we designed and developed ZSL TV in a 2 week design sprint, getting accepted by Apple into the iOS Apple TV store. 
The MVP release includes 6 featured collections; Zoo Babies, Meet the Animals, Fun Animal Facts, Curious Creatures, Conservation & Science and Behind the Scenes.
100+
content editors globally
50
countries with active conservation projects