Skip to main content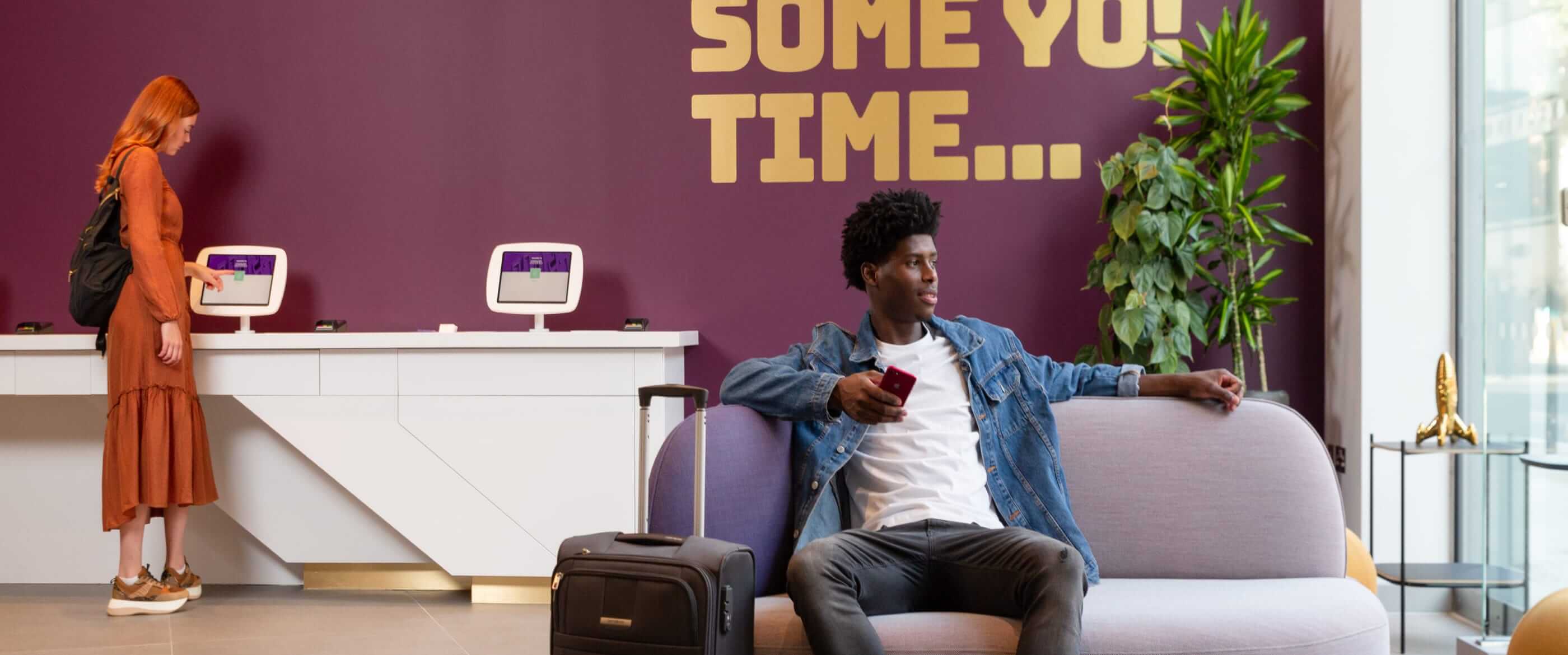 YOTEL are an ambitious hospitality brand, they plan to have 60 hotels open or in development by 2025
YOTEL disrupt the world of hospitality through people, technology and design. With Catch's track record in design and technology creating connected experiences, it was a natural fit for YOTEL to select Catch after a competitive pitch process to design and build a new website platform and booking experience.

The challenge
Inspired by the luxury of first-class travel and uncompromisingly designed around guests, YOTEL takes the essential elements of luxury hotels into smaller, smart spaces and deliver extraordinary value and a sense of community.
A familiar story, the YOTEL brand had outgrown their existing website platform;
An outdated platform deters any innovation and continuous optimisation of the booking funnel. Gaining insight, testing, and implementing larger changes to the website were complex, time-consuming and costly
A lack of personalisation capability meant the existing website was unable to differentiate its content and messaging per audience type
Lack of single customer view meant YOTEL were missing significant insights on their customer behaviour
Desktop-first, an older website architecture meant the site was not optimised for a mobile-first world
An inefficient content workflow meant time to publish content was longer than it needed to be
A disjointed customer booking experience meant sub-optimal conversion rates
Catch were tasked with delivering a new accessible website platform to increase conversion across each of YOTEL's brands, while providing the scalability to accommodate the 60 hotels across the globe they plan to have open or in development by 2025.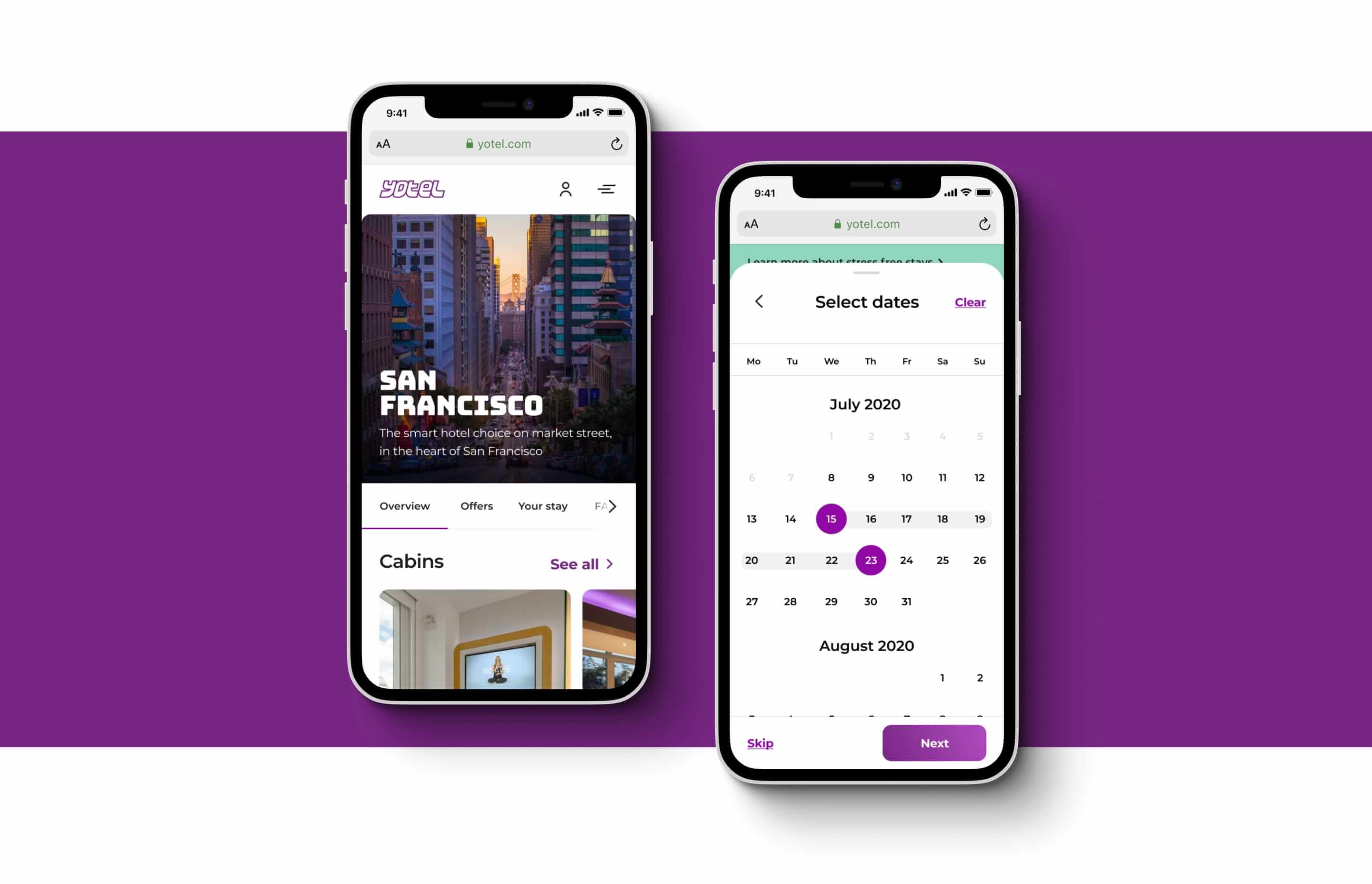 A brand centric approach
To drive loyalty and advocacy, we needed to ensure we put the brand at the forefront of all guest touchpoints, while creating a frictionless booking experience for "Generation YO".
YOTEL has already built a strong brand with a growing level of overall brand awareness as a "Tech-First" company. It was vital that the overall online journey reinforced these values to both current and potential guests.
"YOTEL's technology and design are the two main ways they differentiate ourselves from traditional hotels. This became our guiding principle for our design and build process."
Jonathan Smith, Managing Director Catch
We had to ensure that the site experience takes into account the three sub-brands that make the YOTEL family. The sub brands needed to work hard to afford the user an understanding of the differences between each experience and feel more confident when booking.
YOTEL: There are hotels and then there's YOTEL. Staying with YOTEL means spending time in the world's smartest spaces where desirable, tech and design-led environments make a real connection with modern travellers.
YOTELAIR: YOTELAIR is located exclusively in airports. It's ideal for early flyers and late landers as well as being perfect for a long layover or a dreaded delay. From London to Singapore, we'll make sure you have everything you need to enjoy your stay.
YOTELPAD: There's no place like home. Home to the nomads, travelling workers, long breakers, weekend commuters or relocators. If you're drawn to innovation and fascinated by intelligent design, then our PAD is your PAD.
Rapid onboarding + delivering at pace
Working during the lockdown of 2020 didn't hamper our ability to get a full view of YOTEL's stakeholders requirements, and an in-depth understanding of their audience quickly and efficiently.
Workshopping - Using remote working tools like Mural, we ran virtual workshops to flesh out who exactly would be using their site, their goals, needs and current pain points.
Data analysis - we collated + analysed a range of data to inform our design decisions via;
Audience survey data
Hotjar heat maps
Google Analytics Data
Concepting - Creation of initial wireframes of core user journeys - tackling quick wins before collecting user feedback and iterating further
Your Global travel partner
A slick new navigation for easier wayfinding and helping users find places to stay both airside and landside across the world.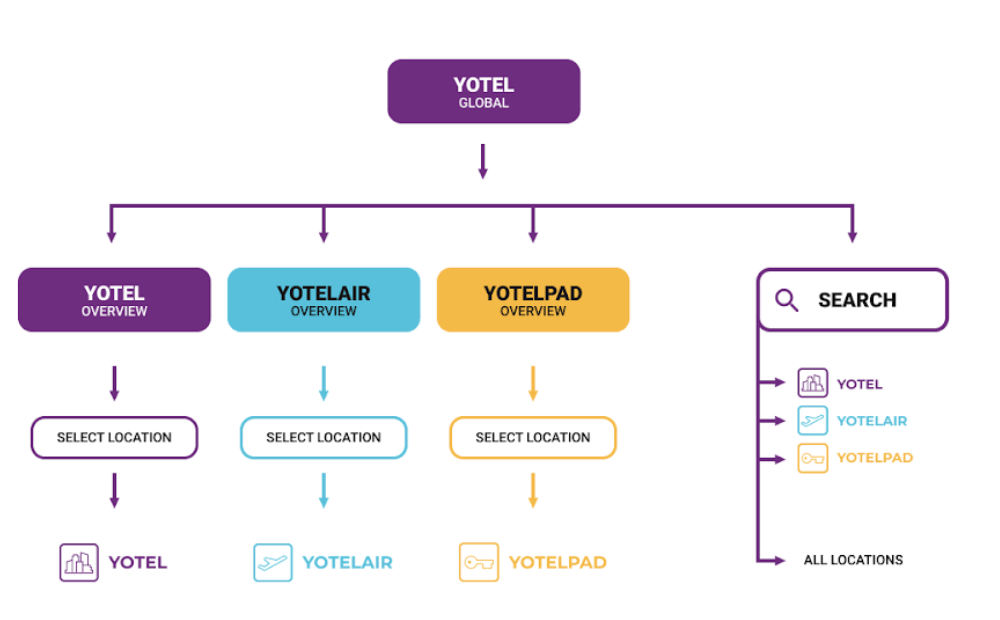 A simple and cleaner site structure to help users orient themselves on the site and differentiate between sub-brands, ensuring a smooth journey into the correct booking funnel
The addition of a search feature at a global level to allow for a more direct, 'location first' approach to browsing the Yotel website without needing to wade through long menus or lists to find their destination
Making sub-brand overview pages work harder to give users the opportunity to explore the differences between each hotel experience and feel more confident when booking
A reduced barrier to entry for the booking funnel replacing 'book' with 'search' to reduce the commitment needed to view available cabins
Using multi-step forms where possible to improve conversion rates on mobile

Applying a component based approach to design
As a global brand with a range of products from airport stays to city living, it was important we laid the foundation in order for the UI to flex and change for each product and experience. We built a robust YOTEL Design system made up of tried and tested components that can adapt.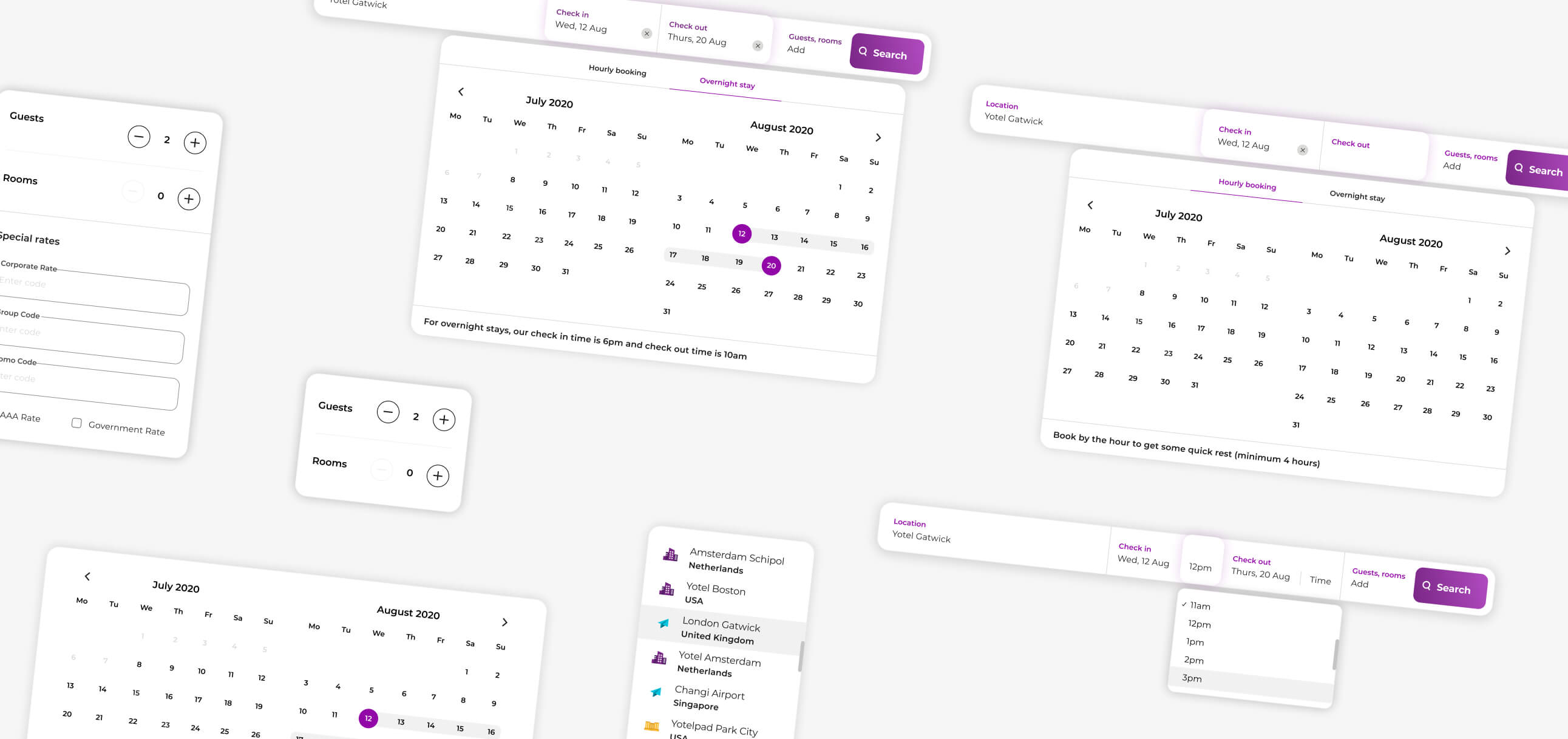 Website accessibility and Americans with Disabilities Act (ADA)
We're passionate about helping to make the internet equally accessible for all users, regardless of physical or cognitive ability, and are experts in accessibility for website platforms.
Care has been taken to ensure that YOTEL adheres to AA WCAG 2.1. This becomes especially important when you consider that YOTEL operates in North America, under the jurisdiction of the Americans with Disabilities Act (ADA). The ADA is a civil rights law that prohibits discrimination against individuals with disabilities in all public and private places that are open to the general public, including YOTEL's hotels and facilities.
Accessible technology firm UsableNet states that in 2018 more than 2,200 suits were filed in federal courts, tripling the number a year before, against firms who didn't provide their users an accessible experience.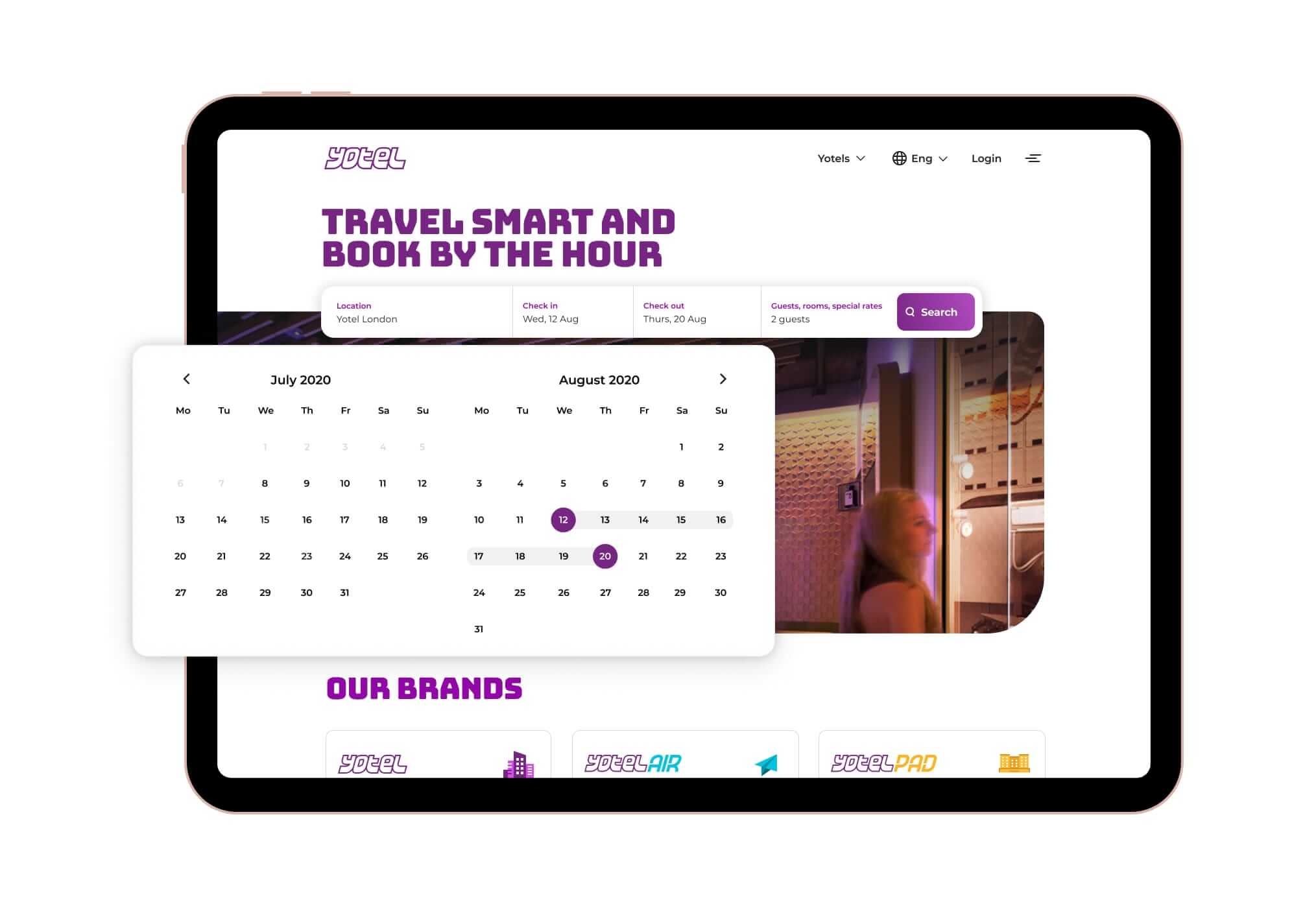 Results
We launched the first release of the platform in Q3 2021, and we're pleased to announce the conversion rate has seen double digit improvement since that time. A fantastic result and testament to the project teams' hard work.
We continue to deliver against a rich roadmap of improvements, and performance optimisations across multiple releases. Our ongoing responsibilities include the UX strategy, UI design, technical development, support and maintenance.
We're excited to continue our partnership with YOTEL and support their commitment to disrupting the world of hospitality through design and technology, an ideal match for YOTEL & Catch.