04 May 2018
#GoTBot chatbot awards
Winter is coming, and we're buzzing from our recent awards success.
Our friendly Game of Thrones Facebook Messenger chatbot was designed to help guide fans through the series and we couldn't be more chuffed that it's been recognised for it's innovation and creative use of AI technology. 
GoTBoT has won numerous awards and commendations including;
Shorty Awards
- Silver Award in the "Humour Category"
- "Audience Award", a real honour to get this one
Social Buzz Awards
- Commendation for "Best Use of a Chatbot"
DADI Awards
- Commendation for "Viral Campaign"
- Commendation for "In-House Campaign"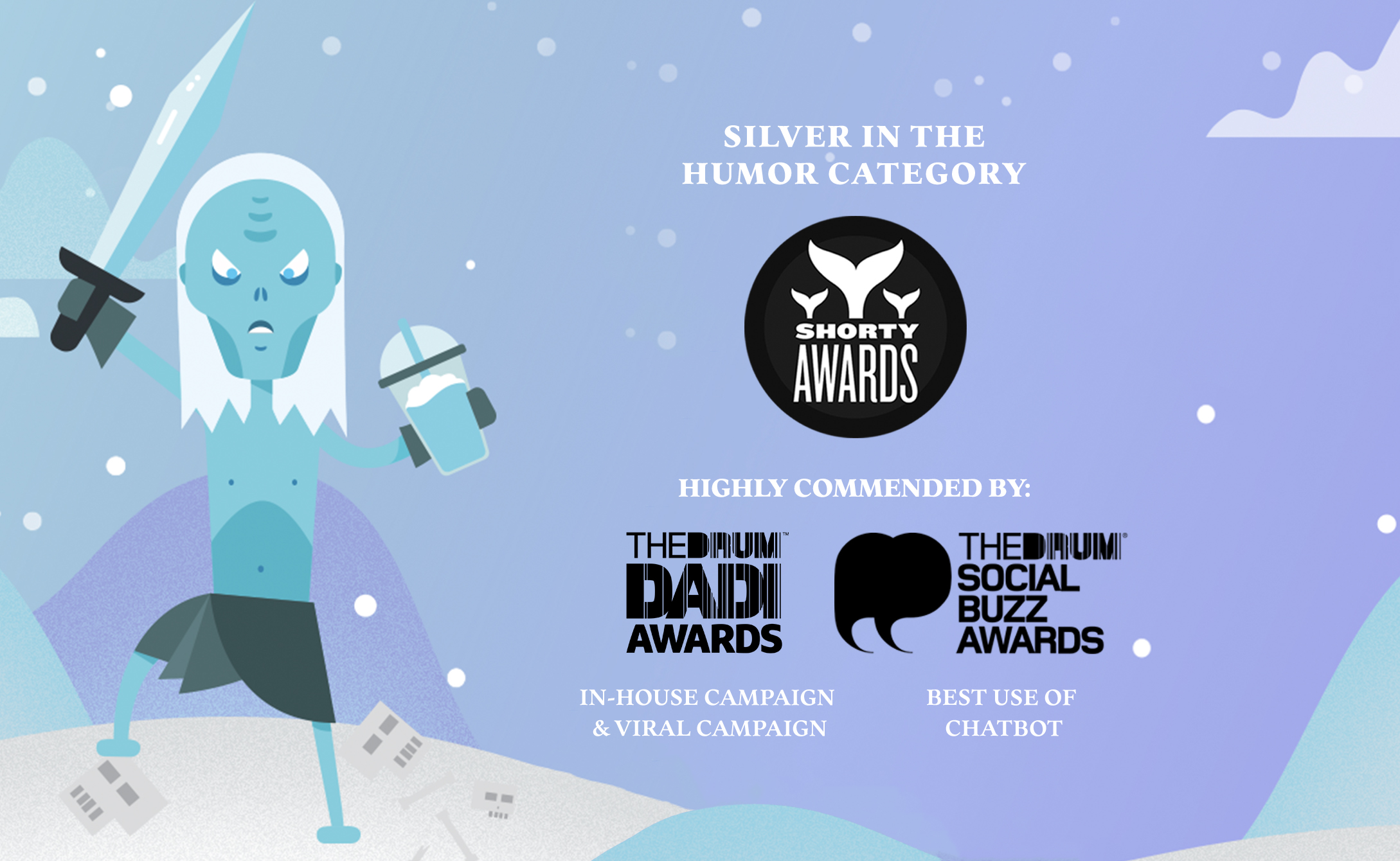 In a world of direwolves, white walkers and dragons, there's one thing missing: bots! Meet GoTBot, a friendly Facebook chatbot with answers to all of your Game of Thrones questions.
We created GoTBot as a Facebook Messenger chatbot in solidarity with all the secondary characters you forgot about, plus all the titles and heirs that you never knew existed. It's for those of you who realise that, in fact, you know nothing.
Start a conversation with GoTBot in the Facebook Messenger app and ask it a question about any Game of Thrones character. For example, "Who is Varys?" will result in a photo of Varys, his title and all sorts of other juicy information about the Master of Whisperers. The "Dead or Alive" feature will come in handy when you just can't remember if that one forgotten Tully is dead yet.
But don't underestimate GoTBot… It knows more than you expect. Just try asking about Daenerys and Jon Snow's (possible? probable?) relationship. Everyone's entitled to their Game of Thrones theories...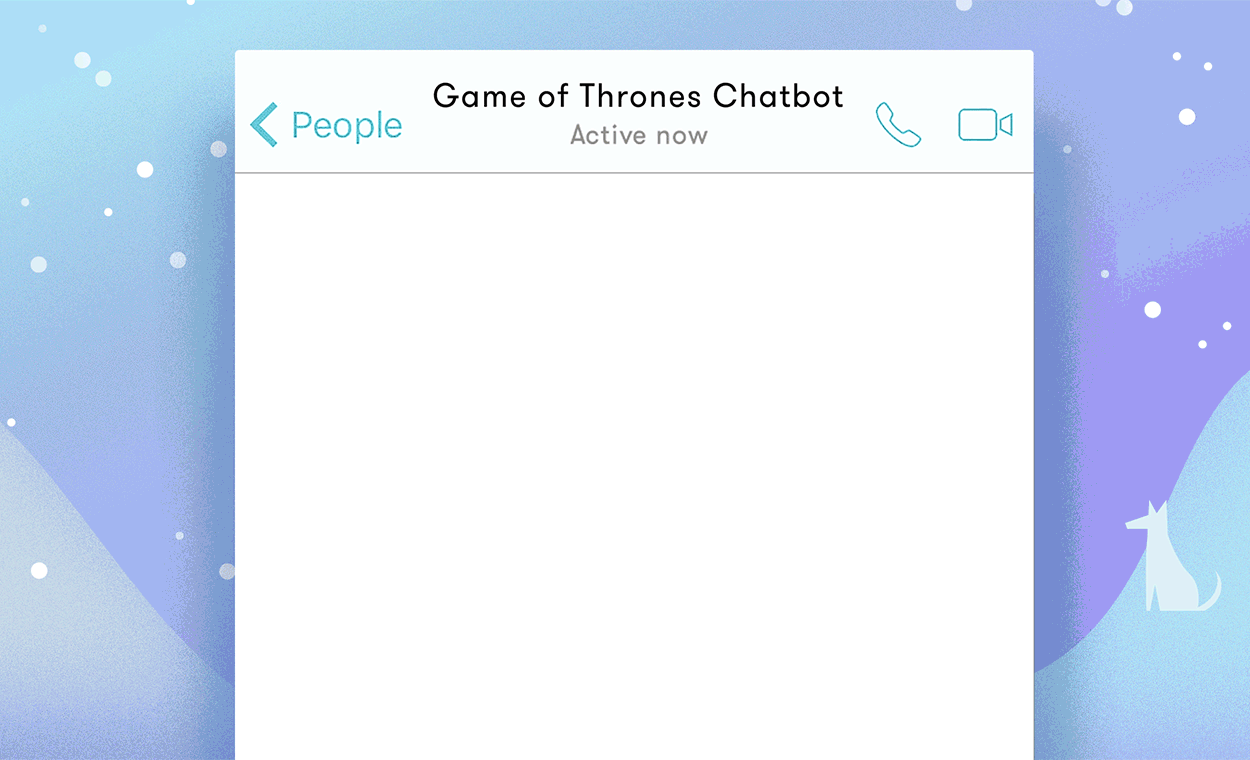 It all started from a simple "Dead or Alive" Game of Thrones question around the studio. If only there was someone who had all the answers. Wait a minute....
GoTBot is designed as a useful tool, but it quickly grew into an entertaining digital friend. Popular Google searches related to Game of Thrones shaped GoTBot so that he answers the most pressing questions, but is also learning every day through the magic of AI.
The A.I. of natural language processing of GoTBot is handled by the Wit.ai service. We begin by teaching Wit.ai example questions and, as we feed it information, it learns to understand the users intent. When the user asks a question, Wit.ai recognises the intent of what the user is searching for then our vast GoT database gets to work and answers the user in an intelligent and useful manner as possible, with a bit of humour thrown in to keep it interesting.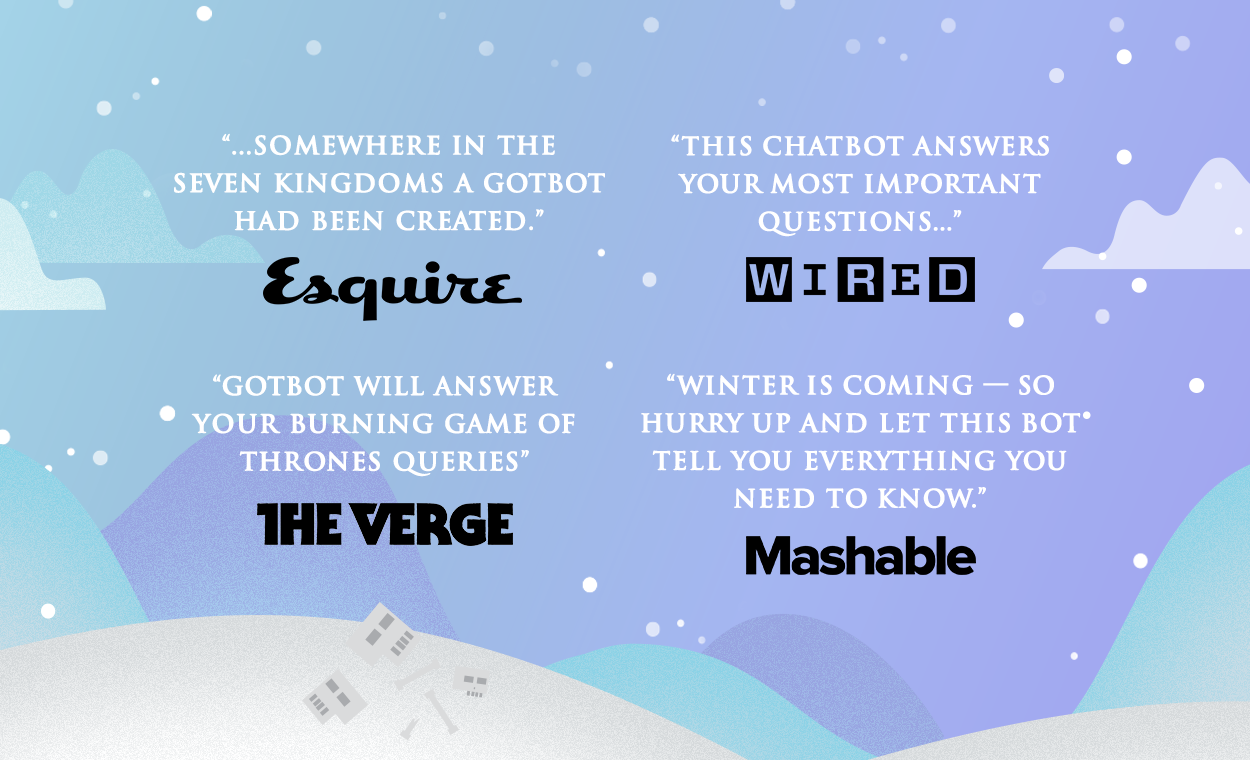 Discussing the launch, Catch's Founder and Managing Director, Jonathan Smith said:
"With 1.2 billion monthly active users on Facebook Messenger, the potential audience for chatbots is huge. We knew we wanted to create a Facebook chatbot and wanted to get our clients excited about the future of AI and how it might benefit their business. What better way to do so than creating our very own chatbot? And who doesn't like Game of Thrones?"
GoTBot's popularity is growing, he's already been featured on Mashable, The Verge, AdWeek, Creativity and Esquire magazine.
To meet GoTBot - The Game of Thrones Chatbot, visit him on Facebook http://m.me/G0TB0T